Starting from the north end of Commercial Drive where we live, we did a grand loop and various adventures on the e-bike today.
We started at Woodland and Venables, going up Woodland to the 10th Ave bike route and headed west.
Federal Store, Quebec at 10th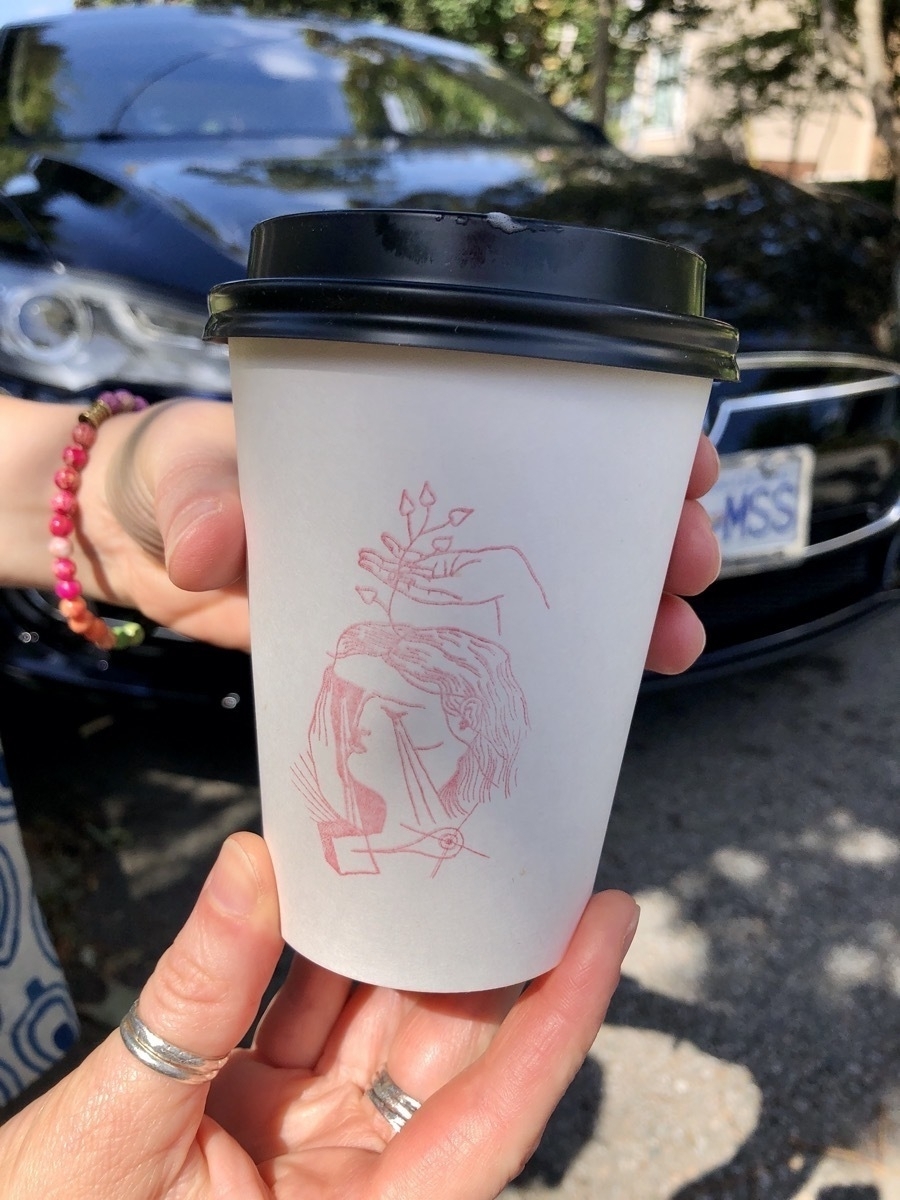 First stop was at The Federal Store, on 10th just before Ontario.
Rachael's tea latte cup had a lovely little stamp. My cappuccino just had "The Federal Store" stamp. Note: The Federal Store has Johnny's Pops and is open most days until 6pm.
Then headed south on Ontario Street.
Main at 28th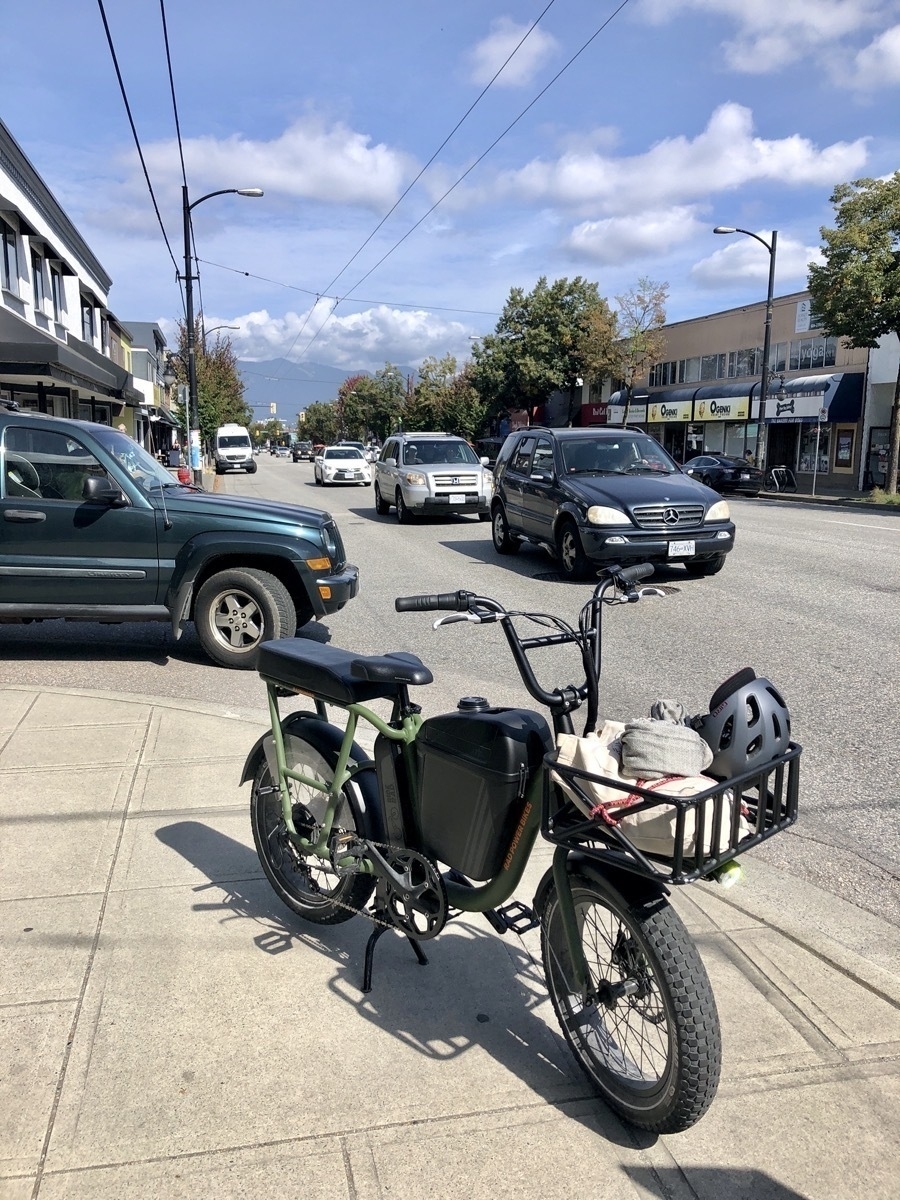 Rachael went across the street to Jasmine Mediterranean Foods for fresh limit (Turkish bagel) and picked up a few other things.
Riley Park (Ontario at 30th)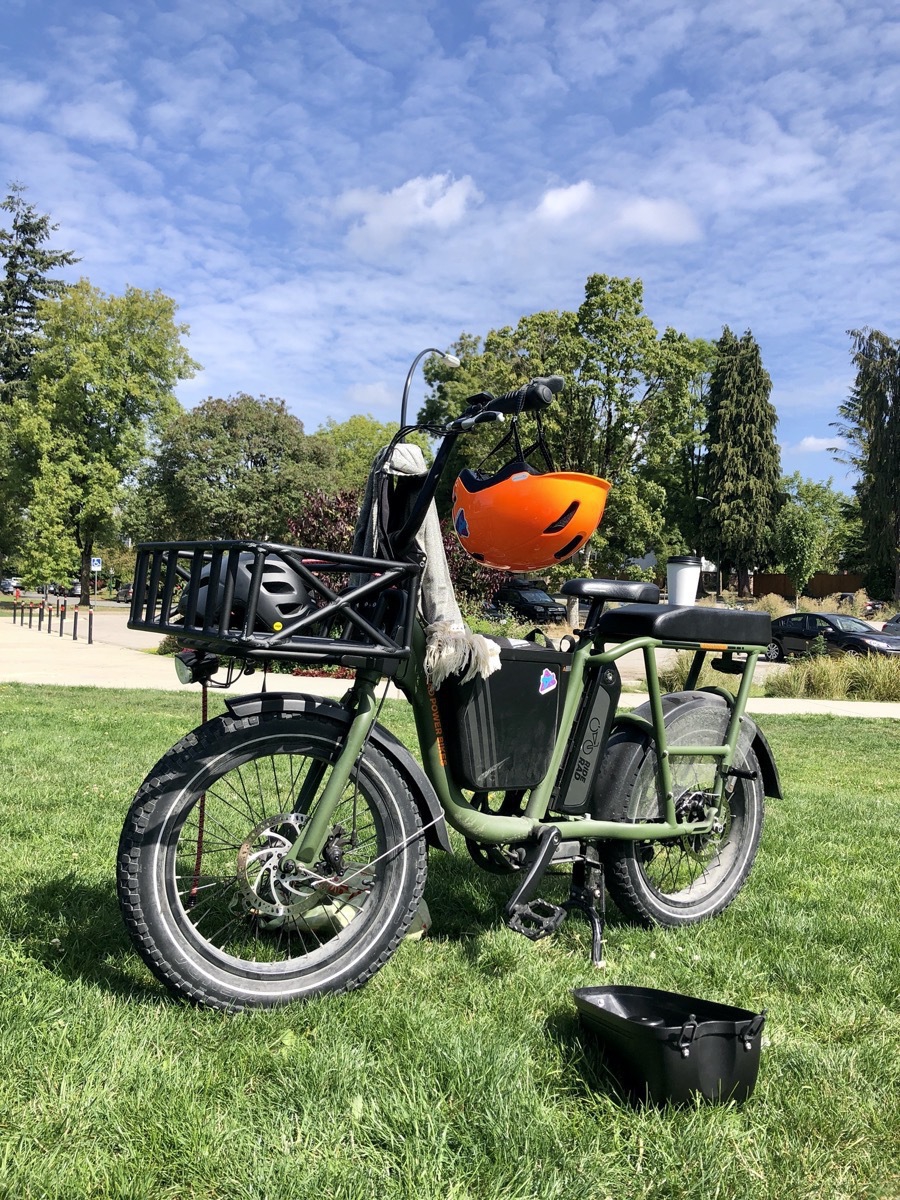 We lay in the grass at Riley Park. It was a gloriously sunny day, but with a bit of a breeze blowing. We had our coffee & tea drinks with limit and hung out for a bit.
Looking at the map, it seemed like a pretty straight forward route south on Ontario and then east on Kent to the River District, which is a new Van Mural Fest neighbourhood.
Rachael and I have never been down in that area at all, so seemed like a good adventure destination.
East Kent Avenue
We drove down Ontario until we hit Marine Drive. We passed by Coupland's Infinite Tire and continued on a couple of blocks into an industrial area and a set of east - west train tracks. There's a great bike path all along Kent Avenue.
It's a bit confusing at times which side of the tracks you need to be on. Both are East Kent Avenue, labeled S or N. In some places there is a clearly marked and dedicated bike path, in others you're going along the road.
Gladstone-Riverside Park

We stopped at Gladstone-Riverside Park – we made it to the Fraser River! Across the river is Richmond, so this is the southern edge of City of Vancouver.
There are a variety of both bike paths and walking paths, again on either a northern "road" path (which had bike paths, too), or a mixed pedestrian - bike path walk ways on parks and green space that is right next to the river. Several other bikers and e-scooters were stopping and looking at maps.

You can see in the map the dotted green paths along the river, as well as East Kent N and S. We stayed on the road (which had a separated two way bike path), as the park paths had a lot of pedestrians.
It was very interesting to see the mix of single family homes but really quite a lot of condos and townhouses either newly built or under construction. This is an area that I know nothing about. It was nice to have bike paths, but it seemed like where we were there was no transit at all, and no retail either. I guess all of that runs along Marine Way.
River District Murals
Here's a custom Map label for roughly where the murals are (you can see it in the screenshot above on the right hand edge).
It's in the middle of a ton of construction, and there are detours and fences that will guide you in a loop through the construction. If you're following audio map directions, they will be very confused and insist that you u-turn :)
Rachael did a much better job capturing the murals and artists, so I'll embed her Instagram here:
The murals are great and many of the artists are at the end of their epic week or so of painting. Apparently they will be up in this temporary space for about a year or so – installed along fencing and the path that detours through the construction site.
The photos I captured below really were about me thinking about this construction and neighbourhood and some of the contrasts.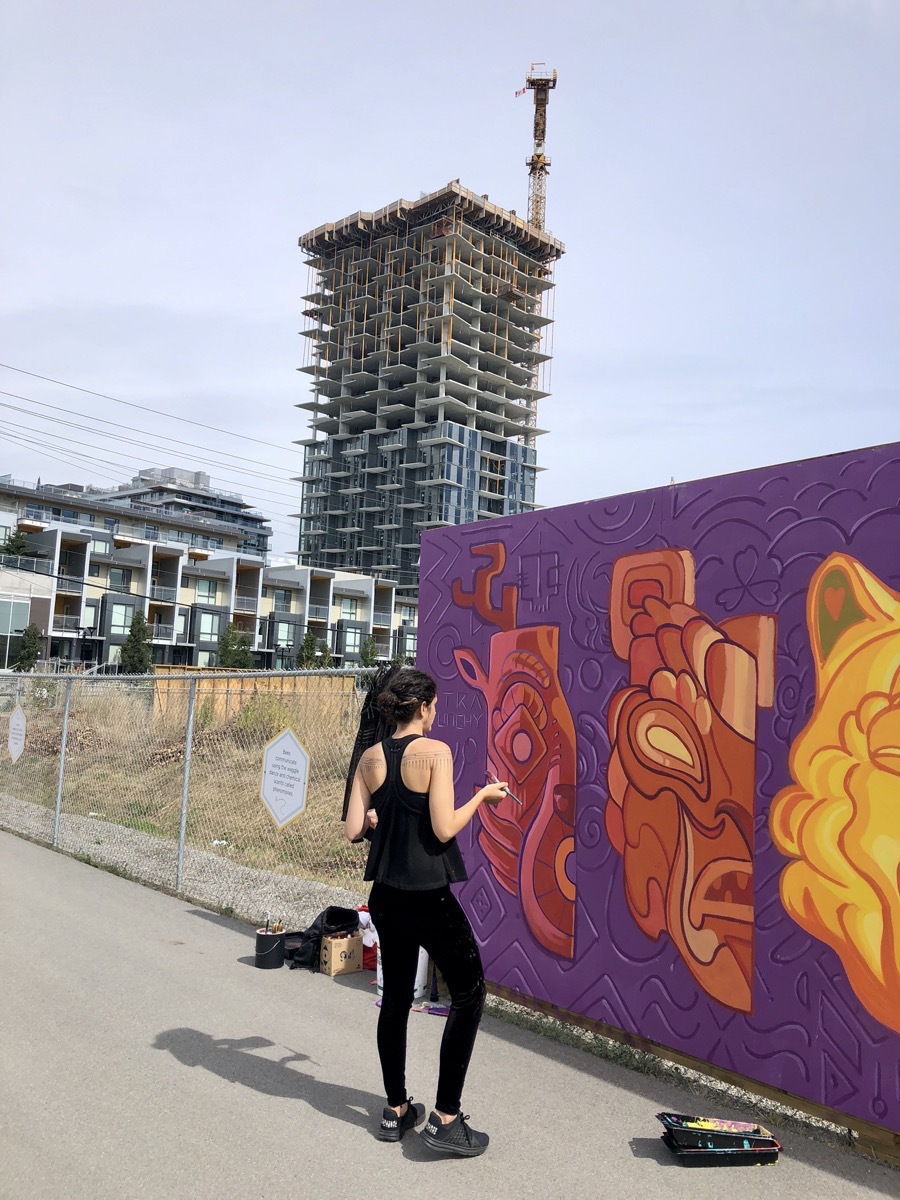 I asked this artist how they got here, and they said Uber. I continue to have questions about how we're still building car oriented dense housing in Vancouver.
Caitlin Mcdonagh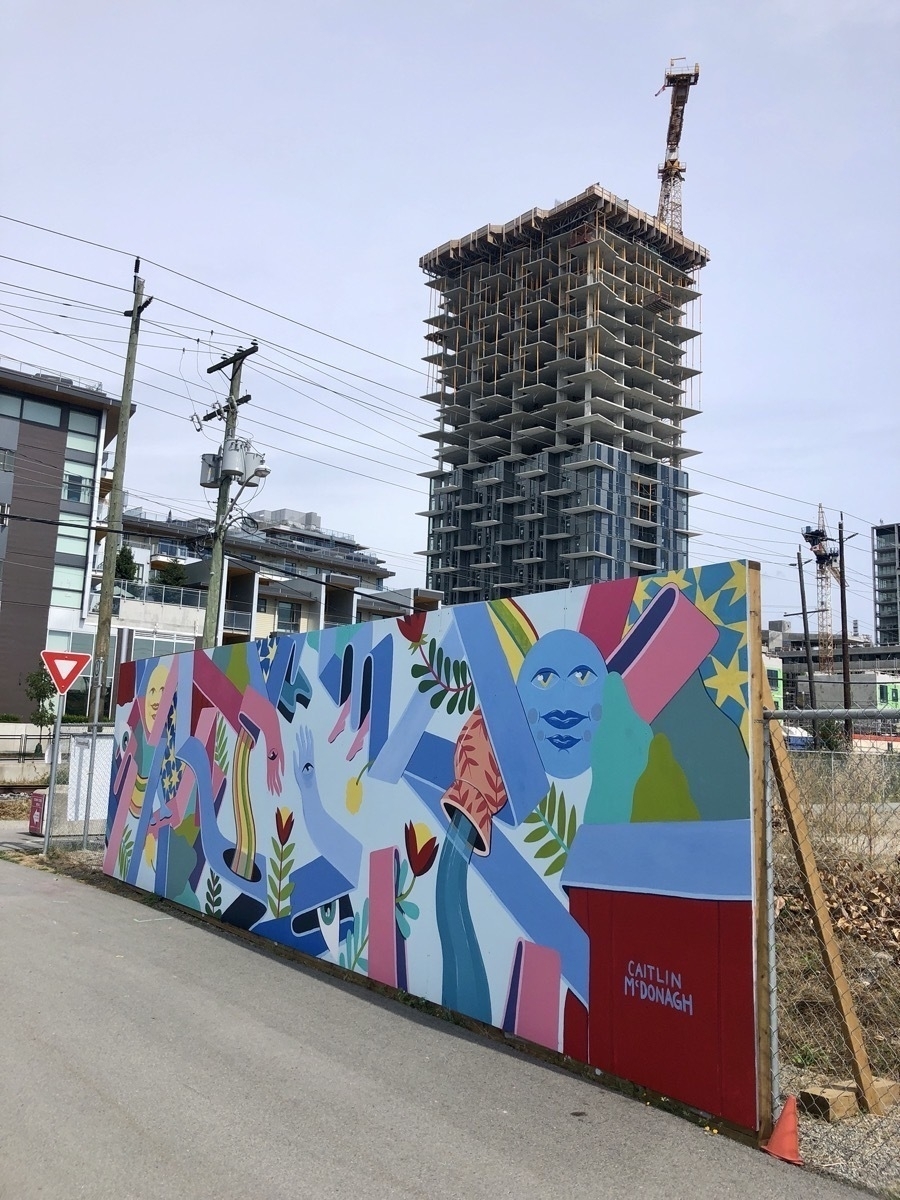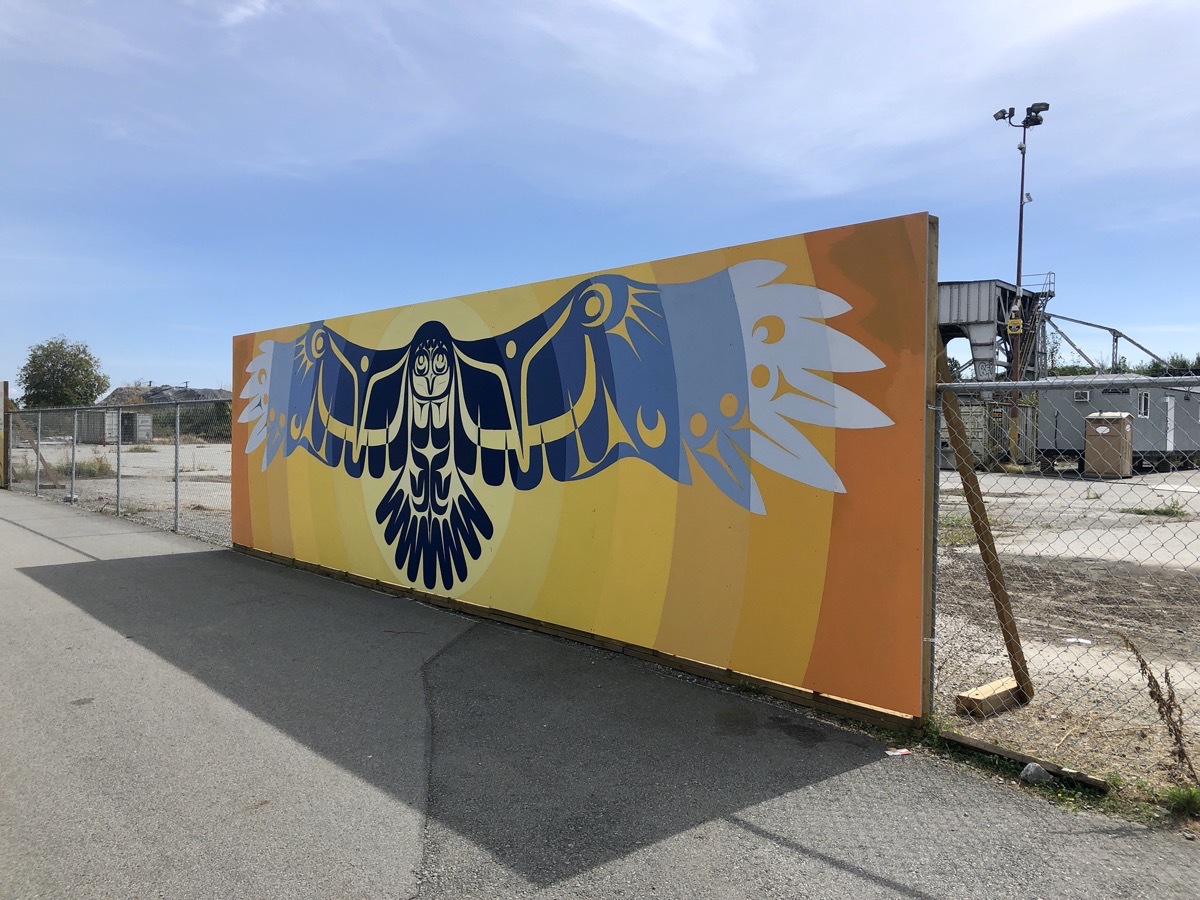 This and the next murals were along an east-west path, fencing off a construction site with a few abandoned industrial buildings still remaining.
Rachael looks at an unfinished mural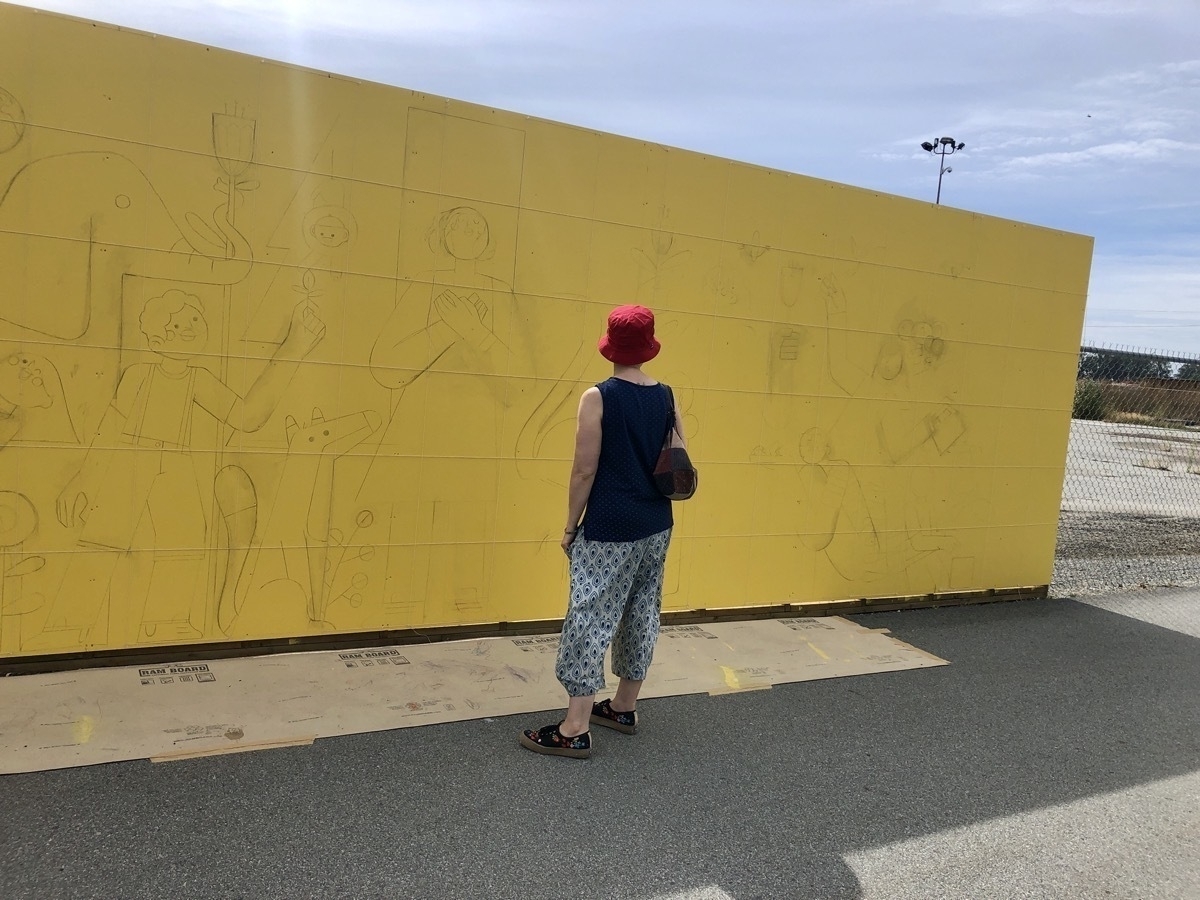 The sketched out design looked super cute!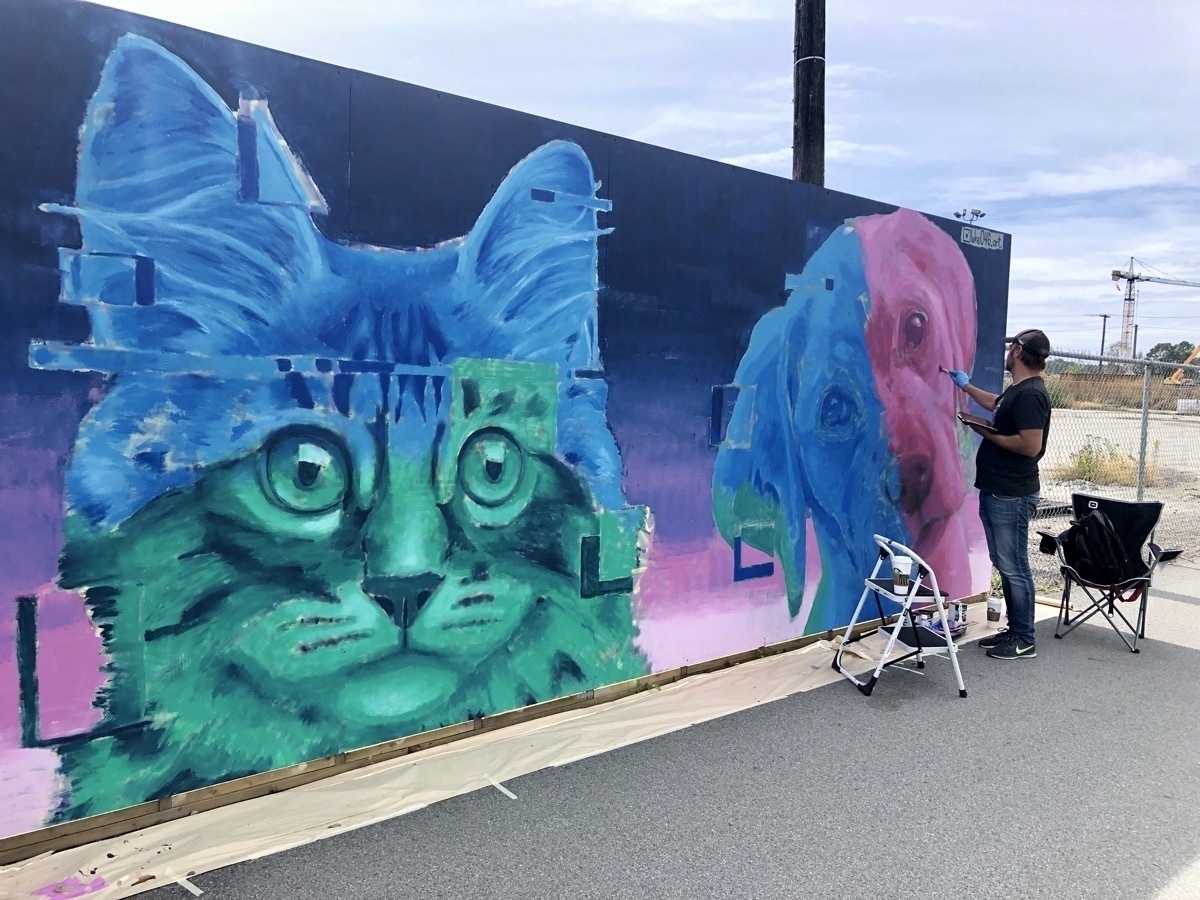 Overhead Power and Construction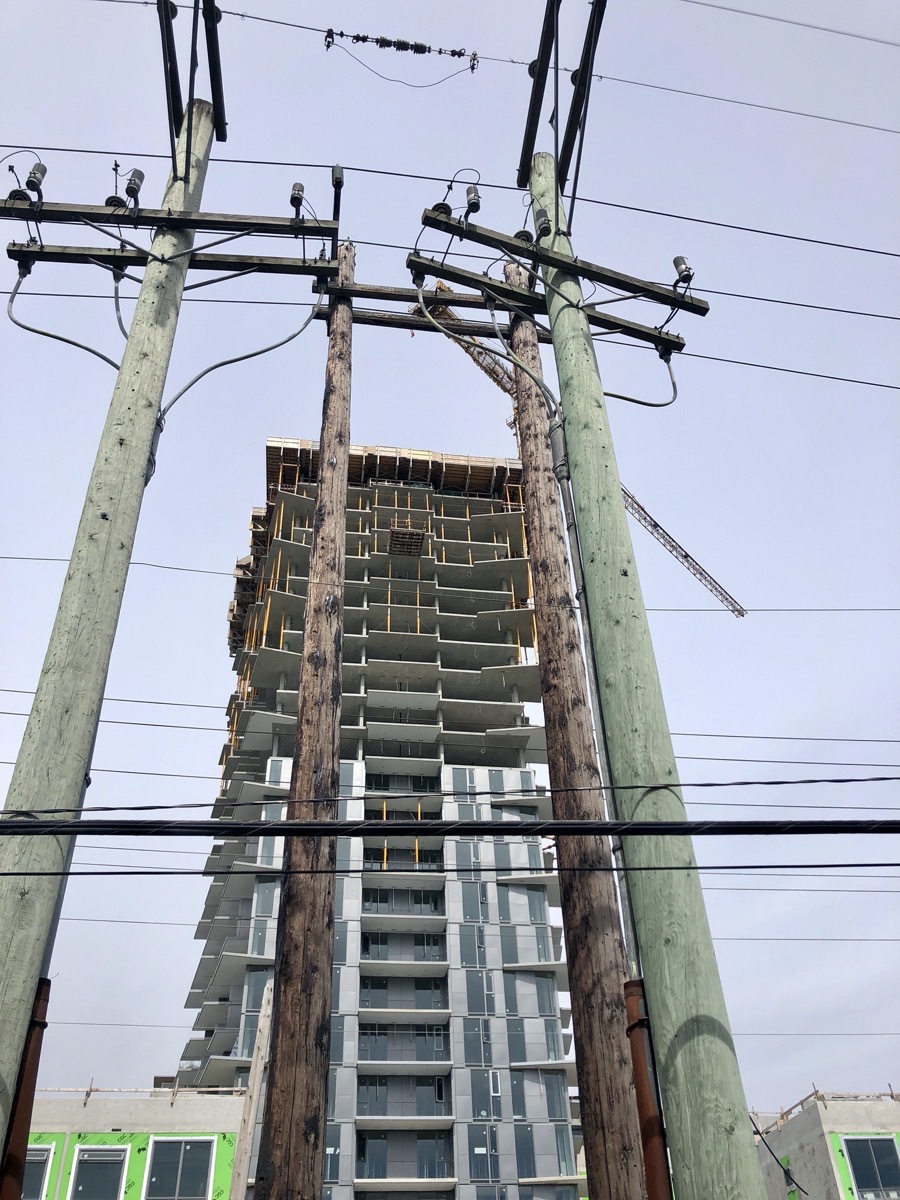 You see old, original poles, skinny and weathered brown, and the new, larger, treated greenish poles. And this ridiculous jumble of overhead wires that we have all throughout Vancouver. Even in this new area, I guess they're not burying lines and laying fibre for Internet?!?!?
Van Mural Fest River District Sign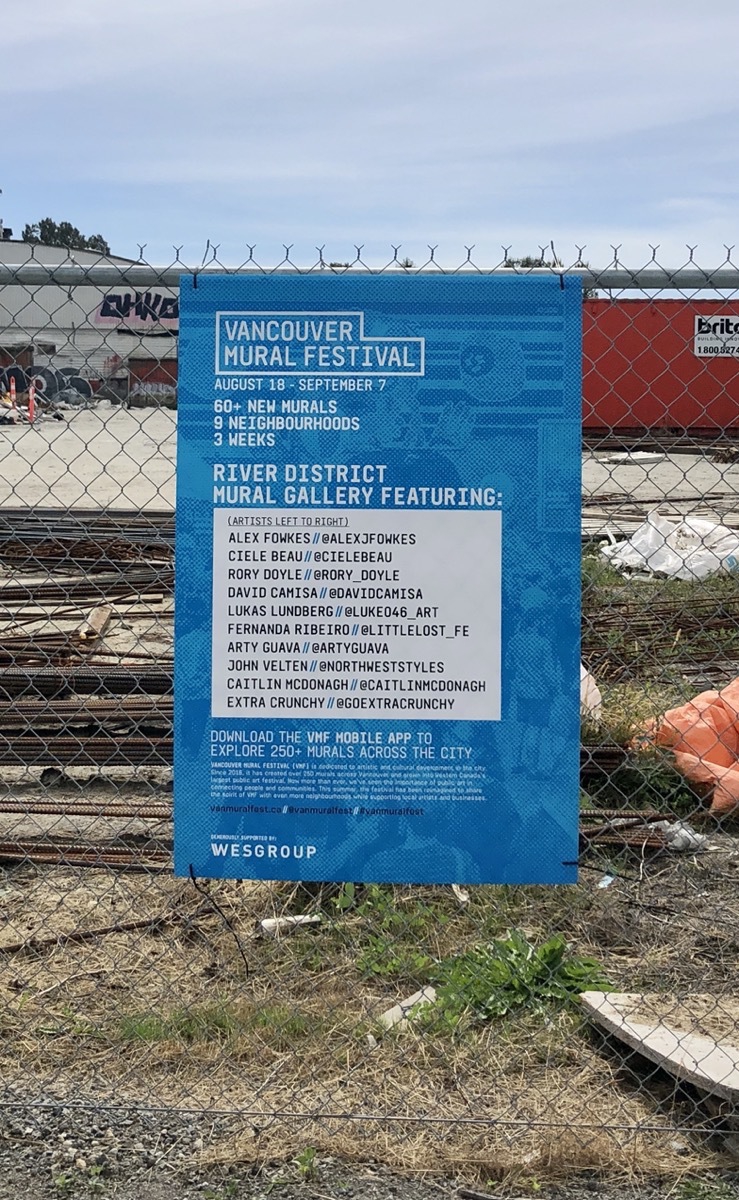 Lists all the artists. More discarded building materials and some sort of hangar or industrial building in the fenced off area.
Looking west, Rachael looks at a mural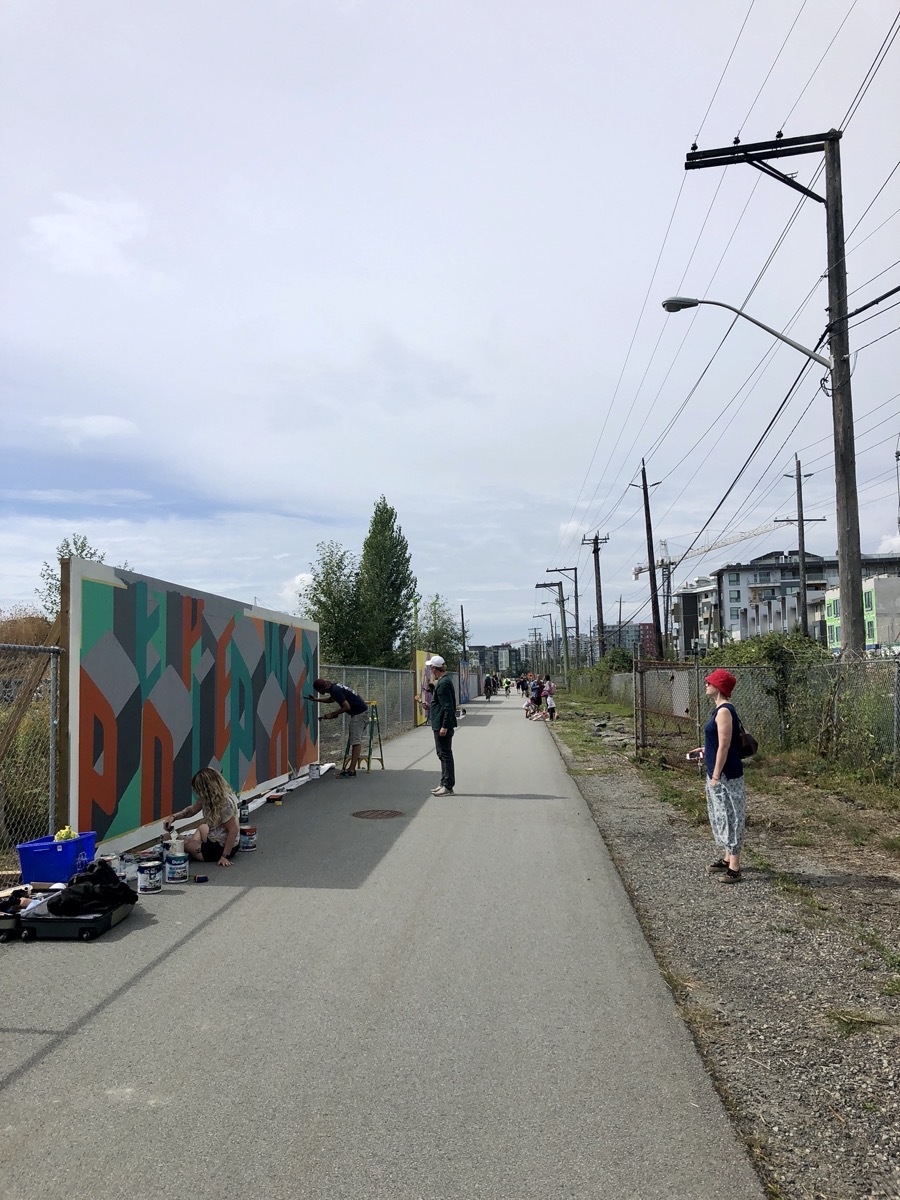 The fence to the north (right in this photo) blocks off rail tracks, then East Kent Ave N, with condos, townhouses going up on the north side of that avenue.
Blackberries, Barbed Wire, Power, and Construction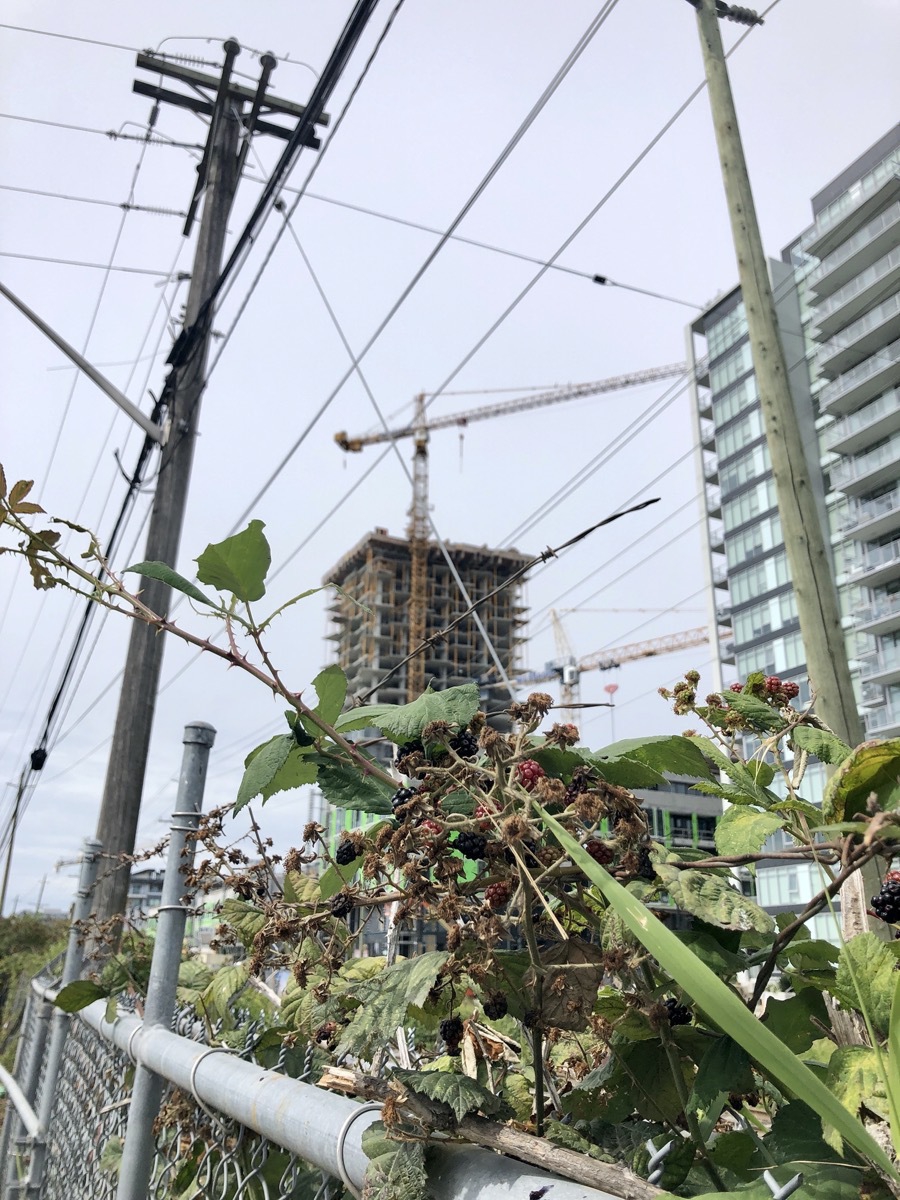 Kerr Avenue
After seeing all the murals, it was time to head home. There are a couple of different south / east routes, the most straightforward looked to be heading back along East Kent, and then going north on Kerr Avenue.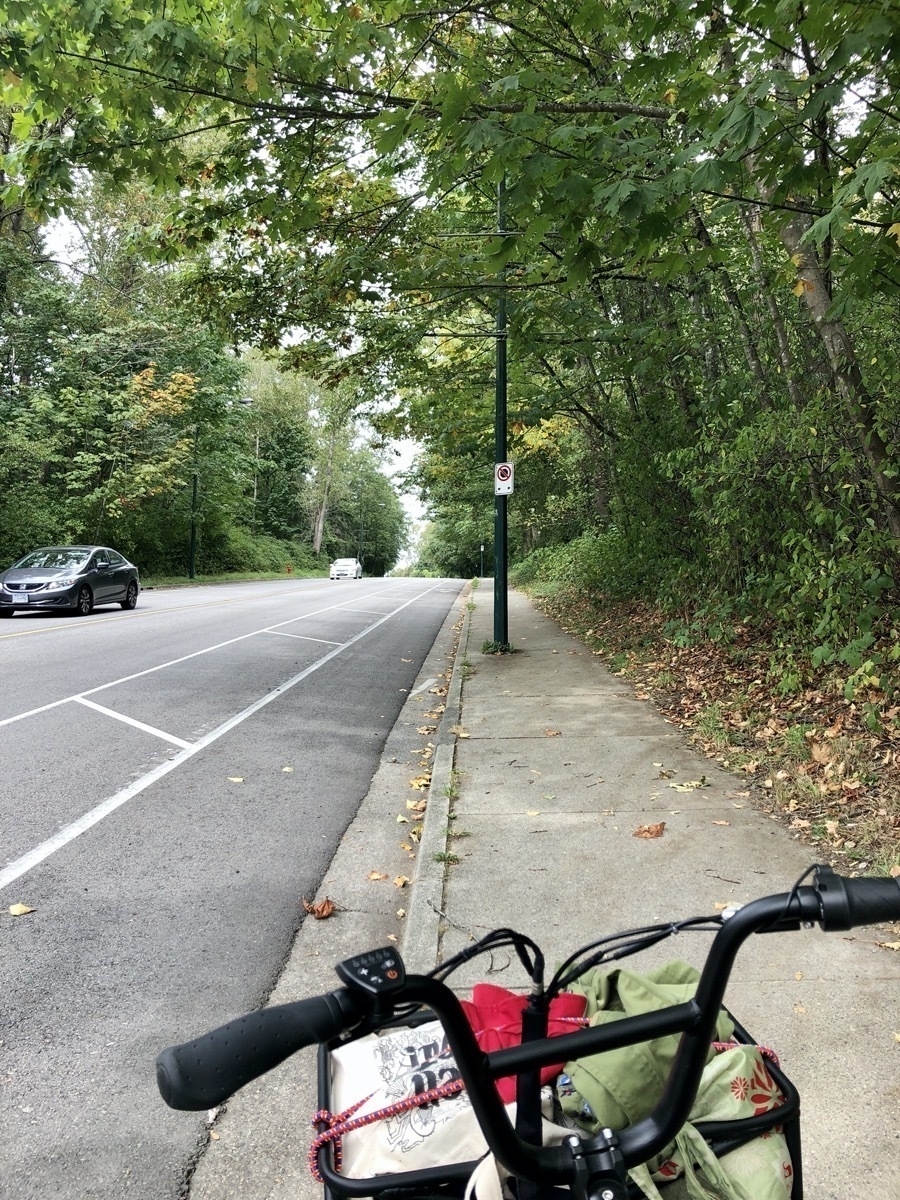 Well, it turns out Kerr is an incredibly steep climb from East Kent to Marine Drive, and then keeps going up with Fraserview Golf Course on one side and Everett Crowley Park on the other. The area at the top is called Champlain Heights :)
Anyway, got off the bike and walked it up a good chunk of this. Not enough power for getting both of us up here. There are a couple of epic hills in Vancouver, where a slightly more powerful motor would really help.
We stayed on Kerr until it turns into Rupert next to Killarney Park, then west on East 45th which is a bike route.
Then right and north on Earles Street, crossing Kingsway at the Purdy's Chocolate factory.
Left and west on Vanness, which turns into BC Parkway path, and a little left along the edge of Slocan Park.
Right and north on Slocan, which is a long down slope. You'll pass Banana Grove Market at 22nd, and keep going down and north until you hit South Grandview Highway.
Cross that, and you'll hang a left and be heading west on North Grandview Highway, which is the Central Valley Greenway.
The CVG has been another common route for us, we'll often head out to Burnaby Lake. But heading home and west we go to Lakewood, and then head right and south until we hit Adanac, and then turn left and west until we're back at Commercial Drive and home.
We were at one bar of power by the time we made it home, so one of the longest trips we've made. Doing a rough map calculation shows about 30km. There are a couple of mega hills in there as well as just long continuous slopes that are rough with two of us on the bike.
Wesgroup
At home now, I'm doing a little research on this River District. This is a "planned community" being built by Wesgroup. Here's one article:
The River District is located along the Fraser River, just off Marine Way, west of Boundary. It is a brand new, award-winning, master-planned community created by Wesgroup – a Vancouver based builder that has been building in the Lower Mainland for over 50 years. Wesgroup has spent the last decade carefully planning River District, the last waterfront development in the city. Spanning 130 acres, it is three times the size of Granville Island and will soon become a vibrant destination for living and shopping when complete in 2017…
It's now 2020, and there are lots of new homes completed, but as you can see from my photos, lots of new buildings still going up.