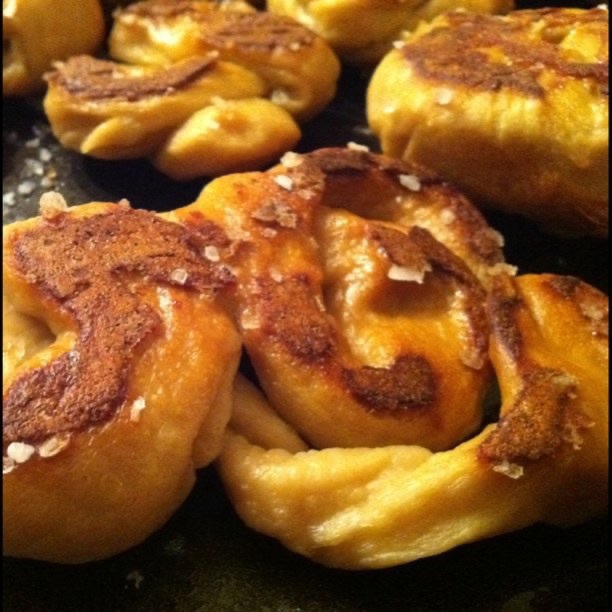 These worked out quite well. Recipe found at Beantown Baker via Foodista search.
The dough was very sticky. Maybe it needed more flour, maybe I needed to knead it a bit longer and work more flour into it. Then came the tricky part.
The astute amongst you might notice that the items in the photo above don't, in fact, look like pretzels. Well, the recipe was on my iPhone and my hands were full of sticky dough, so I ended up with sort of pretzel, erm, "twists" at best.
Rachael had requested some tomato soup and buns, and these were the "buns".
The soup was a mix of a couple of roasted red peppers, celeriac aka celery root, leeks, shallots, a couple of pounds of ugly winter Mexican roma tomatoes (from SPUD, so organic, but still…) and then some ill advised dried chickpeas. That's the second time I've used those chickpeas - they REALLY do need to soak overnight. I made a broth out of simmered chickpeas and some veggie trimmings while I roasted the red peppers. I used the same cast iron pan to then saute the celery root, shallots, and leeks in some olive oil. This all got mixed together with the tomatoes and the broth and the peppers, added some dried basil, a splash of some port that I've decided is best used for cooking, and then simmered down.
I then took a hand blender and blended the whole thing. Those dang chickpeas were still a little on the crunchy side, so the result was a little gritty, but the taste was really good -- the roasted red peppers came through nicely. This was a quick soap, so a table spoon full of Better Than Bouillon vegetable stock base went in instead of salt to round out the taste.
I finished it with some flat Italian parsley, and I'm not too sure about that detail. The texture was wrong and the blended soap didn't need it -- I think I was sort of picturing an Italian minestrone with some flat parsley leaves floating in it.
I am getting better at quantities. A bowlful each for dinner, one portion as leftovers, and froze the rest in a yoghurt container. As opposed to a vat of leftovers and 2 yoghurt containers that I might have made.