We watched the Lovers Rock movie, part of the Steve McQueen's Small Axe BBC film series. It's all about music.
The Independent has a write up, and embeds a Spotify playlist in the article.
This means I can do another playlist deep dive, and find where to look for the artists and tracks separately.
Robin Hood, Cry Tuff & The Originals
On YouTube:
Didn't find this track on Bandcamp, but did find this one by Cry Tuff:
The entire Pressure Sounds catalog is amazing. In fact, the album covers are all the original 45 records, which you see them playing in the film: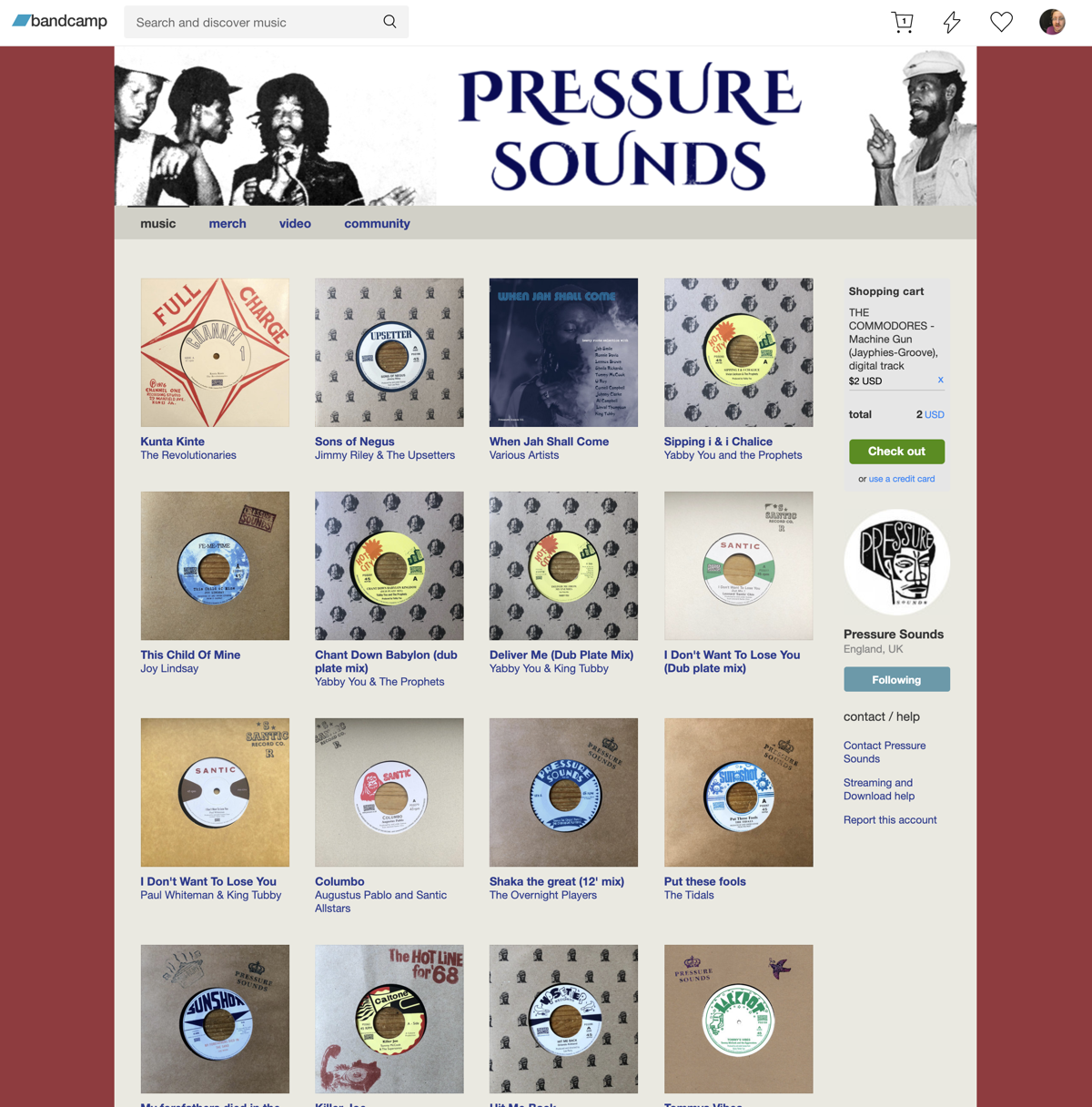 You can buy the entire discography for only like £500!! Tempted…
Kinta Kinta Dub by The Revolutionaries
I originally found the none dub version, which lead me to asking, what does dub / dubplate mean Wikipedia?
A dubplate is an acetate disc usually of 10 inches diameter, traditionally used by studios to test recordings prior to mastering for the subsequent pressing of a vinyl record, but pioneered by reggae sound systems as a way to play exclusive music. They would later become an important facet of the jungle/drum and bass, UK garage, grime and dubstep music scenes.

The first use of dubplates is commonly attributed to sound engineer King Tubby and reggae sound systems such as Lloyd Coxsone and Killamanjaro.[1] Special and one-off versions would be cut to acetate for competing in a sound clash, utilising vocals specially recorded to namecheck the sound system. As such, these would become known as "dubplate specials" often remarking on the prowess of the sound system playing it, in a bid to win the clash.
Oh, interesting, so a reggae sound system is…?
The popularity of a sound system was mainly contingent on one thing: having new music. In order to circumvent the release cycle of the American record labels, the two sound system superstars turned to record production. Initially, they produced only singles for their own sound systems, known as "Exclusives" or Dubplates—a limited run of one copy per song.[4] What began as an attempt to replicate the American R&B sound using local musicians evolved into a uniquely Jamaican musical genre: ska. This shift was due partly to the fact that as American-style R&B was embraced by a largely white, teenage audience and evolved into rock and roll, sound system owners created—and played—a steady stream of the singles the people preferred: fast-shuffle boogies and ballads. In response to this shift in supply, Jamaican producers introduced to their work some of the original elements of the Jamaican sound: rhythm guitars strumming the offbeat and snare-drum emphasis on the third beat, for example.[3] As this new musical form became more popular, both Dodd and Reid began to move more seriously into music production. Coxsone Dodd's production studio became the famous Studio One, while Duke Reid founded Treasure Isle.
Yeah, this is awesome, and depicted in the film, or at least the version that immigrated into the UK.
He's the Greatest Dancer by Sister Sledge
Remix version by Lucas D:
Probably a little too clean compared to the version on the film.
How Long Will it Take by Pat Kelly
Darling Ooh by Errol Dunkley
And found it still available on vinyl as a re-issue. Here's the description:
Errol Dunkley was an early reggae star and one of the youngest, recording his first side ("My Queen") at the age of 12 for Prince Buster in 1964 and scoring his first hit ("You're Gonna Need Me") in 1967. Later, he became a key performer in the '70s Brit-Reggae scene, just missing the Top Ten in 1978 with his remake of John Holt's "OK Fred." Helmed by groundbreaking female producer Sylvia Pottenger, Darling Ooh! is actually his 1972 debut album, but like a lot of records that came out on small Jamaican mprints that later got swallowed into the mammoth Trojan label, its history is complicated; this record came out on the Gay Feet label under the title Presenting Errol Dunkley and also on the Trojan imprint Attack the same year as Darling Ooh! with different art and an expanded track listing (and, just to make things more confusing, a 1979 Trojan reissue had the Gay Feet track listing and the Attack artwork).
Kung Fu Fighting by Carl Douglass
Classic.
"Kung Fu Fighting" is a disco song by Jamaican vocalist Carl Douglas, written by Douglas and produced by British-Indian musician Biddu. It was released as a single in 1974 on the cusp of a chopsocky film craze and rose to the top of the British, Australian, Canadian, and American charts, in addition to reaching the top of the Soul Singles chart. It received a Gold certification from the RIAA in 1974 and popularized disco music. It eventually went on to sell eleven million records worldwide, making it one of the best-selling singles of all time. The song uses the quintessential Oriental riff, a short musical phrase that is used to signify Chinese culture.

Wikipedia <en.wikipedia.org/wiki/Kung…>
Things in Life by Dennis Brown
After Tonight by Junior English
Lonely Girl by Barry Biggs
Different track, also from Pressure Sounds label:
Here it is on YT:
Baby My Love by The In Crowd, Jah Stitch
Whole Flabba Holt / Roots Radics / Jah Stitch discography looking great, here's a one track:
Actual track on YT:
Silly Games by Janet Kay
Yes! On Bandcamp:
This was one of the key songs from the film. Looks like it was released on BC for the film:
Janet Kay also is known as the Queen of Lovers Rock earned the title when she made history by becoming the 'First British born Black Female Reggae Artist to have a No. 1 in the British Pop Charts' - Music Guinness Book of Records. With this classic song 'Silly Games' it was a hit not only in the UK but also in Europe.
Keep it Like it is by Louisa Mark
Another Trojan Records, on YT:
Minstrel Pablo by Augustus Pablo
I'm mainly seeing some sweet melodica action (a keyboard you blow into). Found this in Rockers International Discography.
Actual track on YT:
Dreadlocks in Moonlight by Lee "Scratch" Perry
Absolute legend:
Lee "Scratch" Perry OD (born Rainford Hugh Perry; 20 March 1936)[1] is a Jamaican record producer and singer noted for his innovative studio techniques and production style. Perry was a pioneer in the 1970s development of dub music with his early adoption of remixing and studio effects to create new instrumental or vocal versions of existing reggae tracks.[2] He has worked with and produced for a wide variety of artists, including Bob Marley and the Wailers, Junior Murvin, the Congos, Max Romeo, Adrian Sherwood, the Beastie Boys, Ari Up, the Clash, the Orb, and many others.

Wikipedia <en.wikipedia.org/wiki/Lee_…>
Well, now I want to go listen to The Orb. Their latest comes out this year:
I have Live 93 in my collection already (one of their earliest), so I now have the pleasure of working my way forwards.
Looks like The Orbserver in the Star House features Lee "Scratch" Perry. Yeah, this is a rabbit hole I can fall down.
Have a Little Faith by Nicky Thomas
Another Trojan Records.
Yes, Trojan Records exists:
Trojan Records was founded in 1968 when Lee Gopthal, who operated the Musicland record retail chain and owned Beat & Commercial Records, pooled his Jamaican music interests with those of Chris Blackwell's Island Records. Until 1975, they were based at a warehouse in Neasden Lane, Willesden, London.

Trojan was instrumental in introducing reggae to a global audience and by 1970 had secured a series of major UK chart hits. Successful Trojan artists from this period including Tony Tribe, Lee "Scratch" Perry's Upsetters, Bob and Marcia, Desmond Dekker, Jimmy Cliff, Harry J All Stars, The Maytals, The Melodians, Nicky Thomas and Dave and Ansel Collins.

The bulk of the company's successes came via licences for Jamaican music supplied by producers such as Duke Reid, Harry Johnson and Leslie Kong. While the company's focus was firmly on the sale of 7" singles, it also launched a series of popular, budget-priced compilations such as Tighten Up, Club Reggae and Reggae Chartbusters.

Wikipedia <en.wikipedia.org/wiki/Troj…>
Also credited with getting us to rude boy:
Rude boy, rudeboy, rudie, rudi, and rudy are slang terms that originated in 1960s Jamaican street culture, and that are still used today. In the late 1970s, there was a revival in England of the terms rude boy and rude girl, among other variations, being used to describe fans of two-tone ska. The use of these terms moved into the more contemporary ska punk movement as well. In the UK, the terms rude boy and rude girl are used in a way similar to gangsta, yardie or badman.

Wikipedia <en.wikipedia.org/wiki/Rude…>
Which could take us to two-tone ska and ska punk, but I think we'll leave it there :) Watch the film! It's pretty intense, and some of the energy around how women are treated is horrible, but it's an amazing look into west London Jamaican music parties.