My first delivery of Chefs Plate meals arrived today.1
My company sent everyone SnackMagic boxes with treats for the holidays, and the box also came with a discount code for Chefs Plate, a meal delivery service.2
I decided to try it even though I'm not really the target market for it. We live close by to grocery stores and I enjoy cooking things from raw ingredients.
But, it was steeply discounted, and I've always been curious about these services. I don't know how long this one has been available or what others there are in Canada / are live in Vancouver.
I picked the meals ahead of time with Rachael. This order included:
Herby Panko-Crusted Chicken
Creamy Butternut Squash Orzo
Loaded Beef Burrito Bowls
Usual price $60CAD, discounted price $27CAD. For 2 people for 3 meals that's pretty good.
Unboxing
You can pick different days of the week for delivery and they leave it at your door.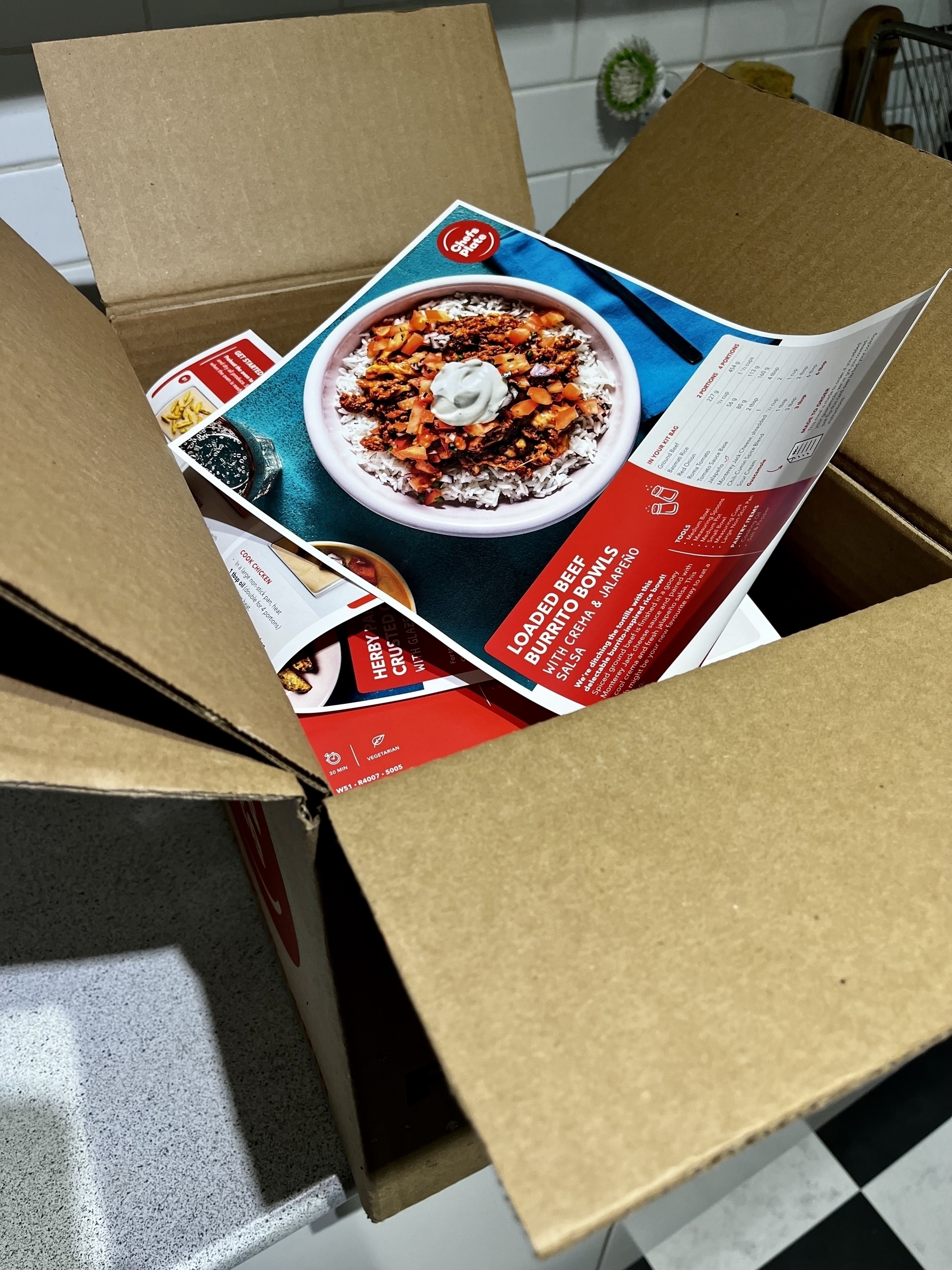 There is a glossy double sided print out of meal prep and cooking instructions. My first reaction was that this is a lot of packaging and paper and inks and it's definitely wrecking the planet.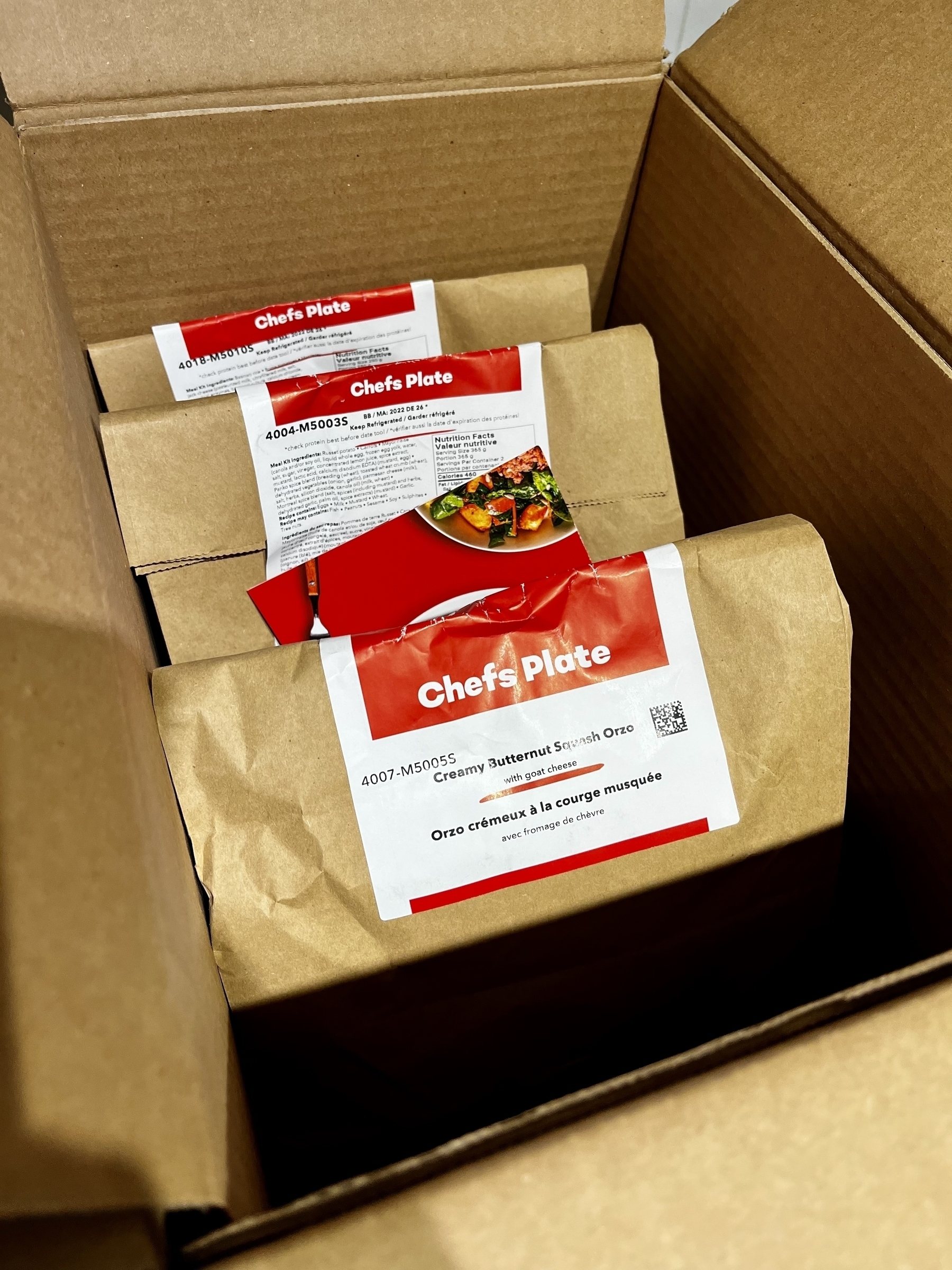 The kits are in a big cardboard box, each meal's ingredients in a bag. The bags are compostable so you can use them for your bucket liner (as it says in the explainer).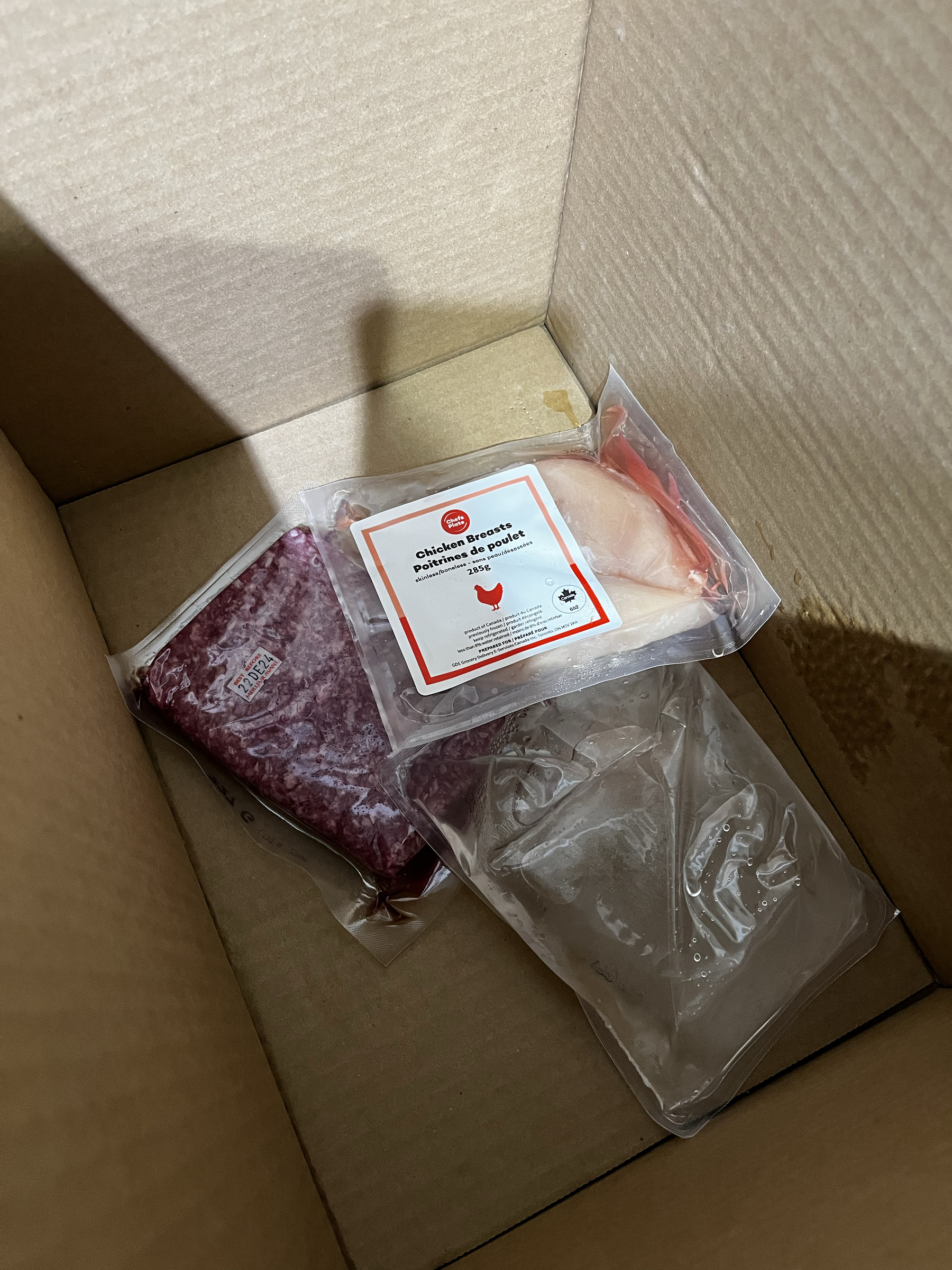 There's a compartment in the bottom with an ice pack and things that need to be kept cold. This week, chicken breasts and some ground beef. There was also a loose whole bulb of garlic.
The kit bags aren't full to the brim, so the tops could be folded down. But I still had to find room in my apartment sized fridge to stick them.
Making Herby Panko-Crusted Chicken
We decided to make the chicken for dinner.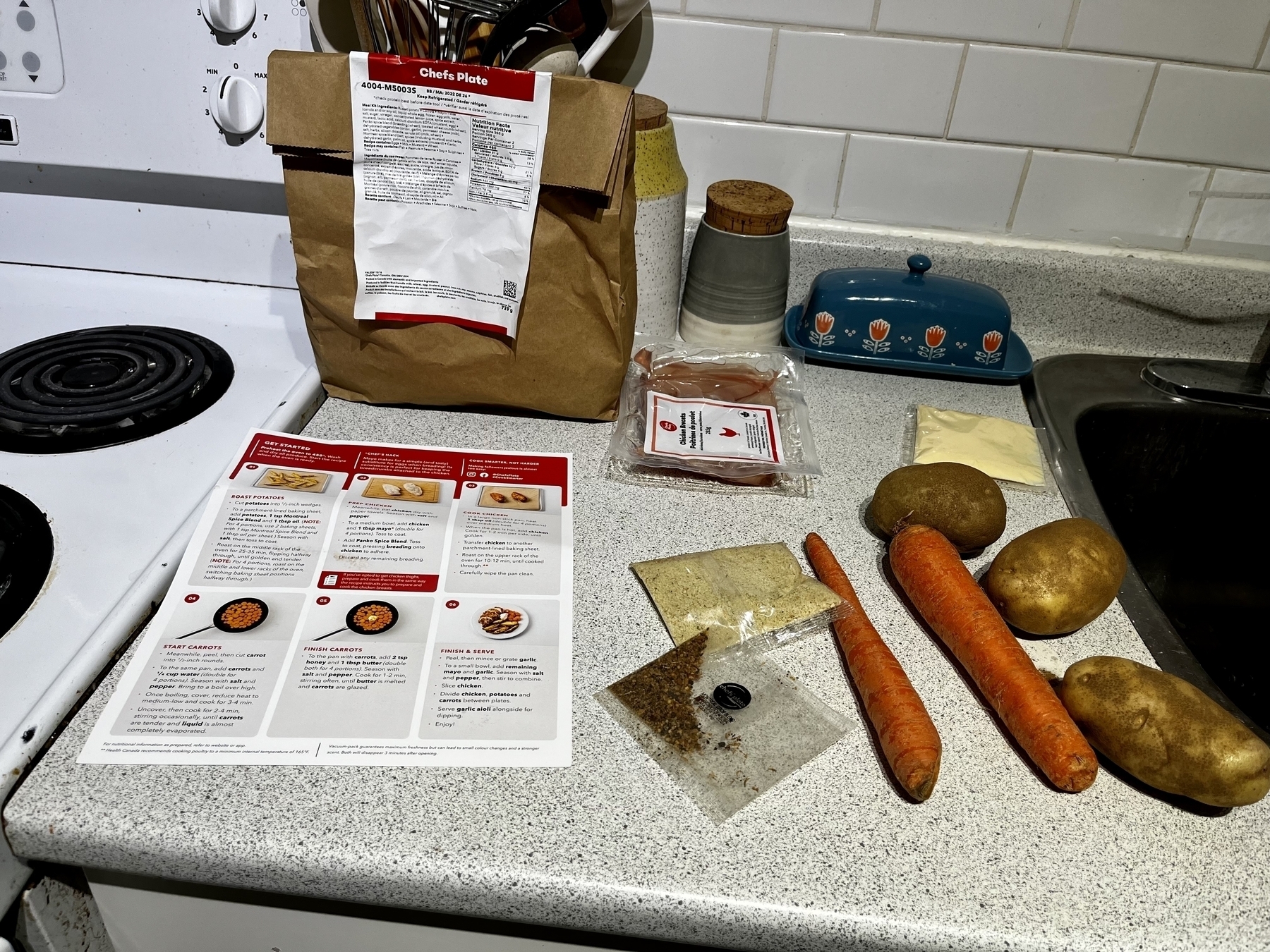 Here's everything from the kit laid out on the counter. The sticker on the bag has a full ingredient list for everything like the spice blend and then mayo, plus the nutrition info for the whole meal.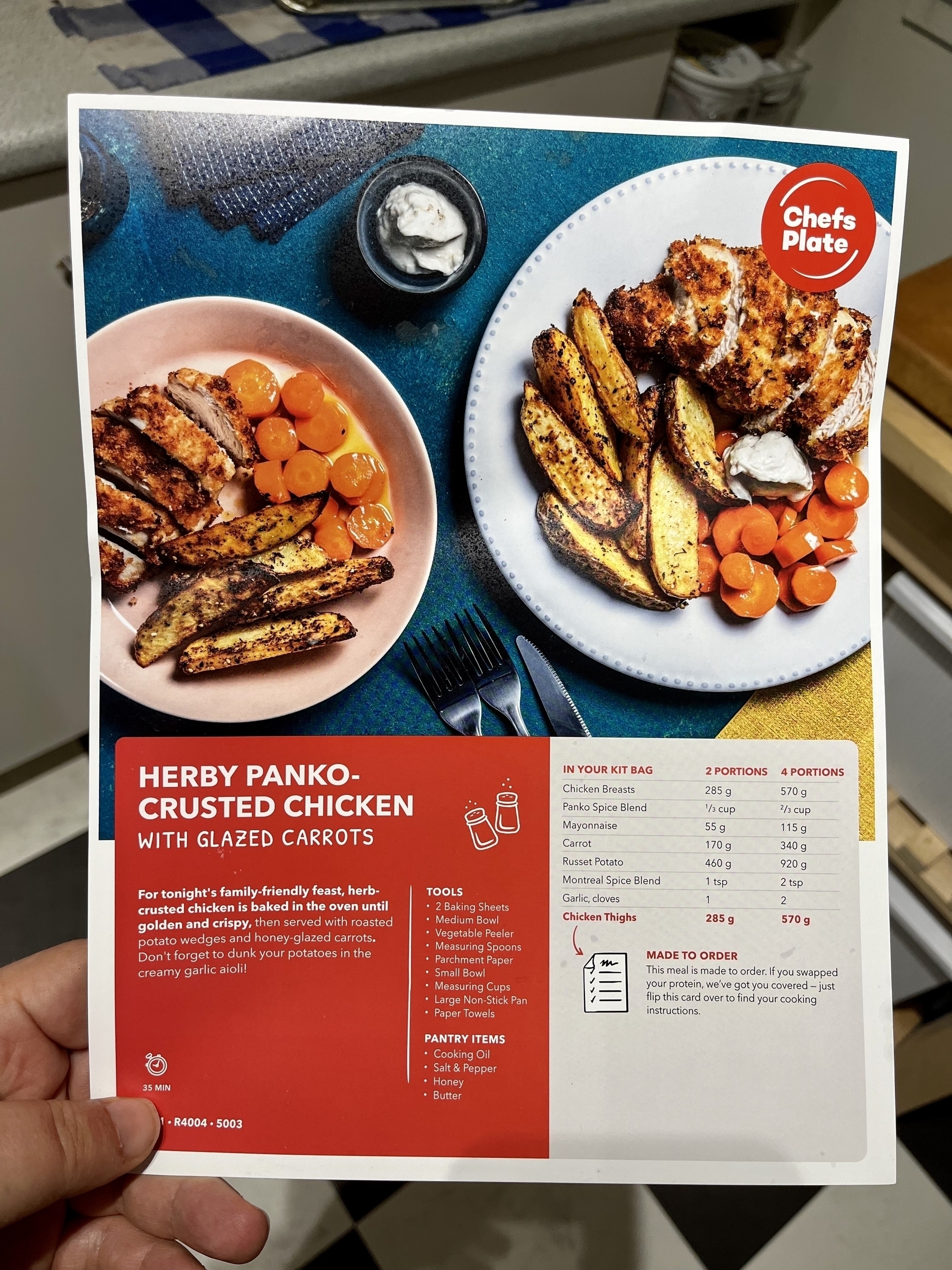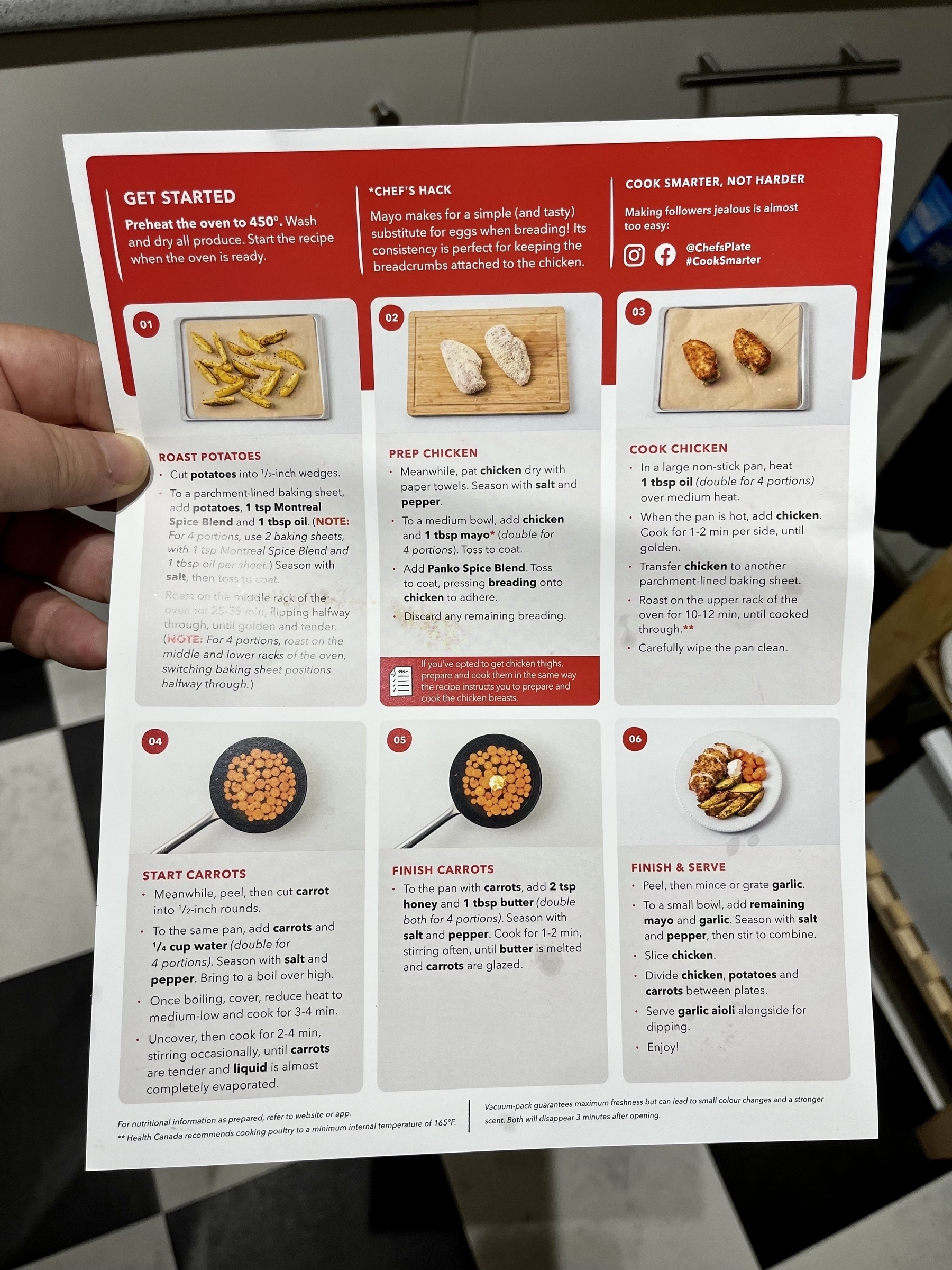 The double sided instructions are good. Tells you the equipment and other stuff you need (basics like salt, pepper, oil, honey). And the instructions are laid out in time it takes to cook. So preheat the oven right away and get the potato wedges started.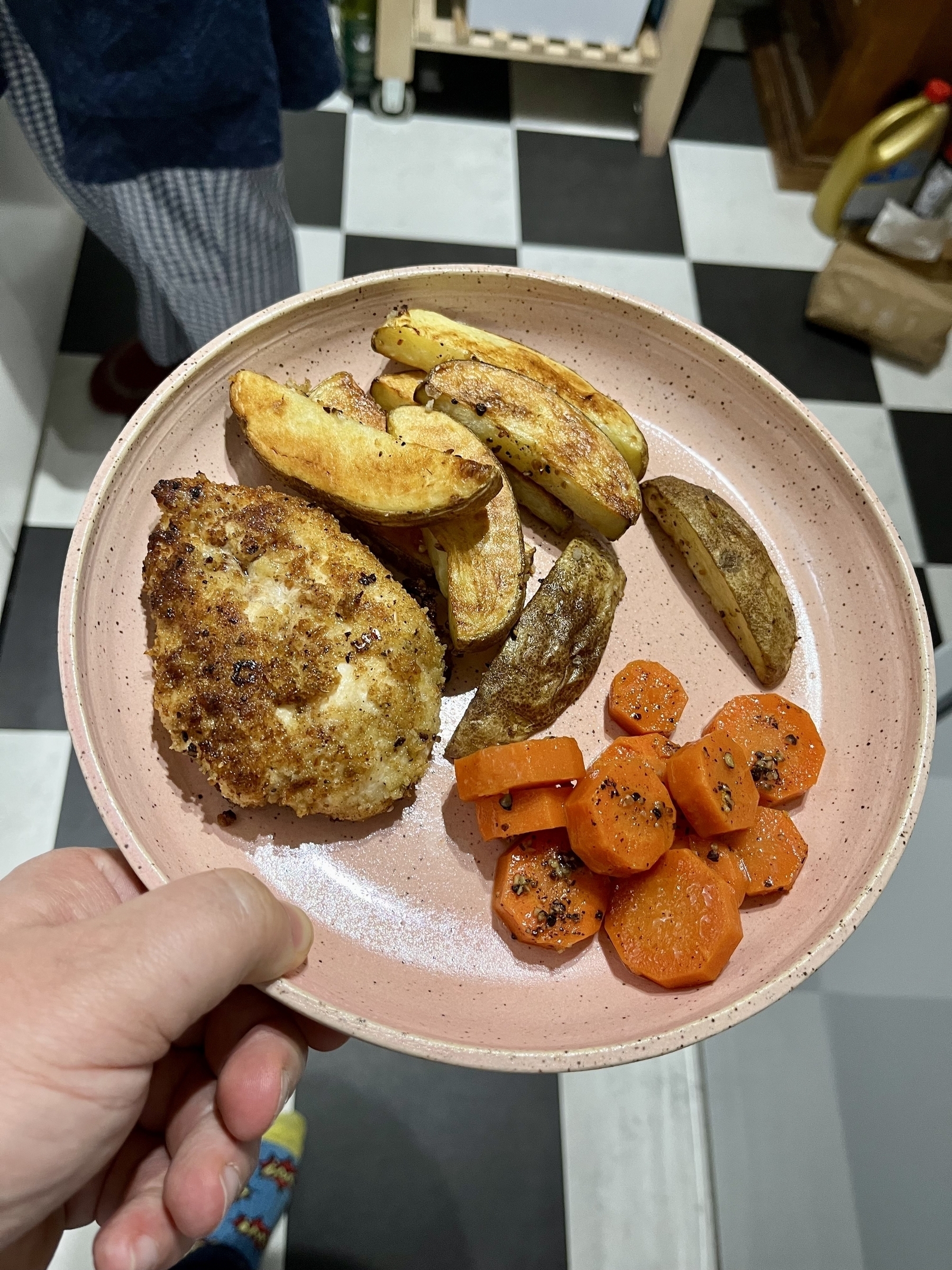 And now we'll teleport all the way to the plated meal. Chicken breast covered in mayo and panko-crusted, potato wedges baked in the oven with Montreal Steak Spice, and honey glazed carrots.
It was good! We added our own salt and pepper to everything as instructed and it was nice and flavourful.
It called for parchment paper for both the potato wedges and the final bake of the chicken. That was a nice tip for me to save on clean up and keep things crisp.
It definitely reminded me that potato wedges are something we can make any time!
The carrots are pretty much how I make them anyway - finished with a little butter and honey. Dill if you like, or I'll add cumin seeds sometimes.
The mayo-instead-of-egg was another nice tip that I'll be using.
All in all, a good, tasty first experience.
On Meal Kits Generally
The discounts to get me on a subscription is very much an investment driven business.
The packaging feels like a lot. But: no plastic other than on the meat.
There is an app, so maybe I can opt out of the printed meal instructions.
Are the ingredients local? Could one check a box and have 80% local ingredients?
Could one apply this to community supported agriculture?
This meal was ~$9CAD with discount, ~$20CAD without. For 2 people, that's reasonable. The chicken breasts alone would cost me $5-6. Everything else low cost: 2 carrots, 3 potatoes, mayo, steak spice. Maybe another $1.
We used to do zero take out. And then the pandemic. Now we're at 1-2 take out meals per week. This would be cheaper.
I'm interested in perhaps doing some food sharing with people, where everyone cooks a larger quantity and then shares with the group. Don't know if I'll get to it as a habit this year, but it's the sort of thing I'd like to see more of.
And bulk buying!
I have done zero research on this in Vancouver. If you have thoughts on meal kits or on fun community food locally, let me know!