I just got back from a company retreat1 at Bodega Ridge, a large group event space on Galiano Island.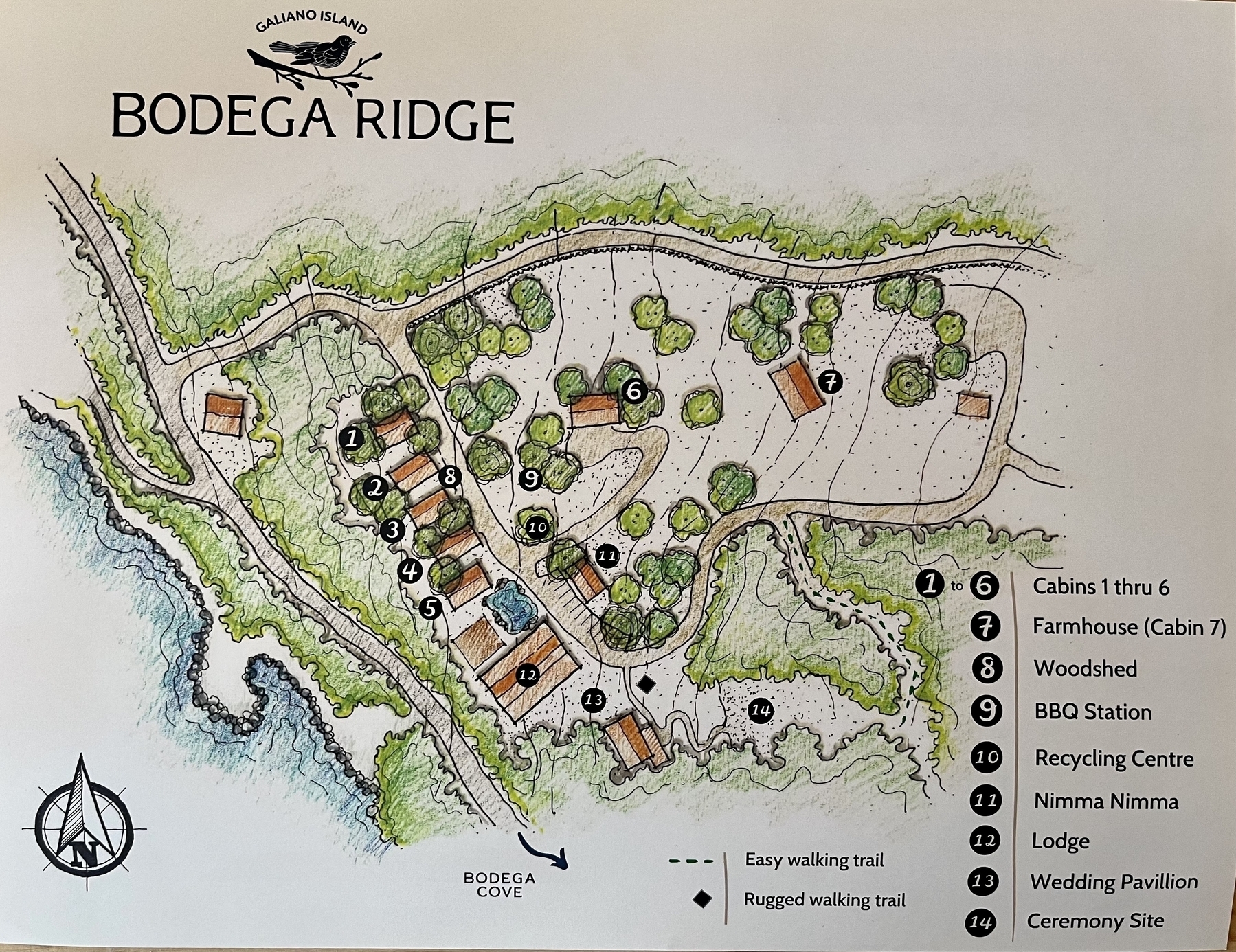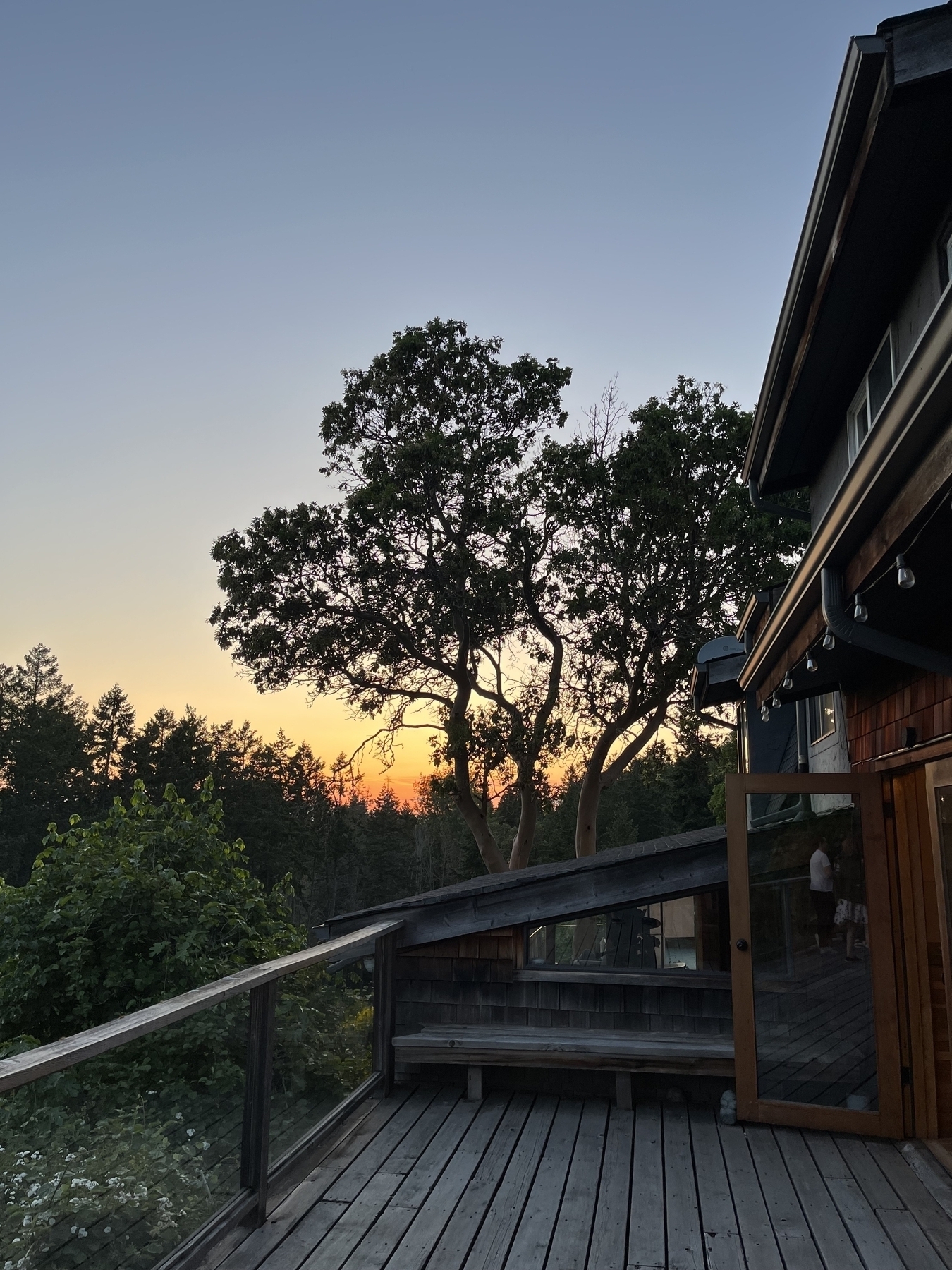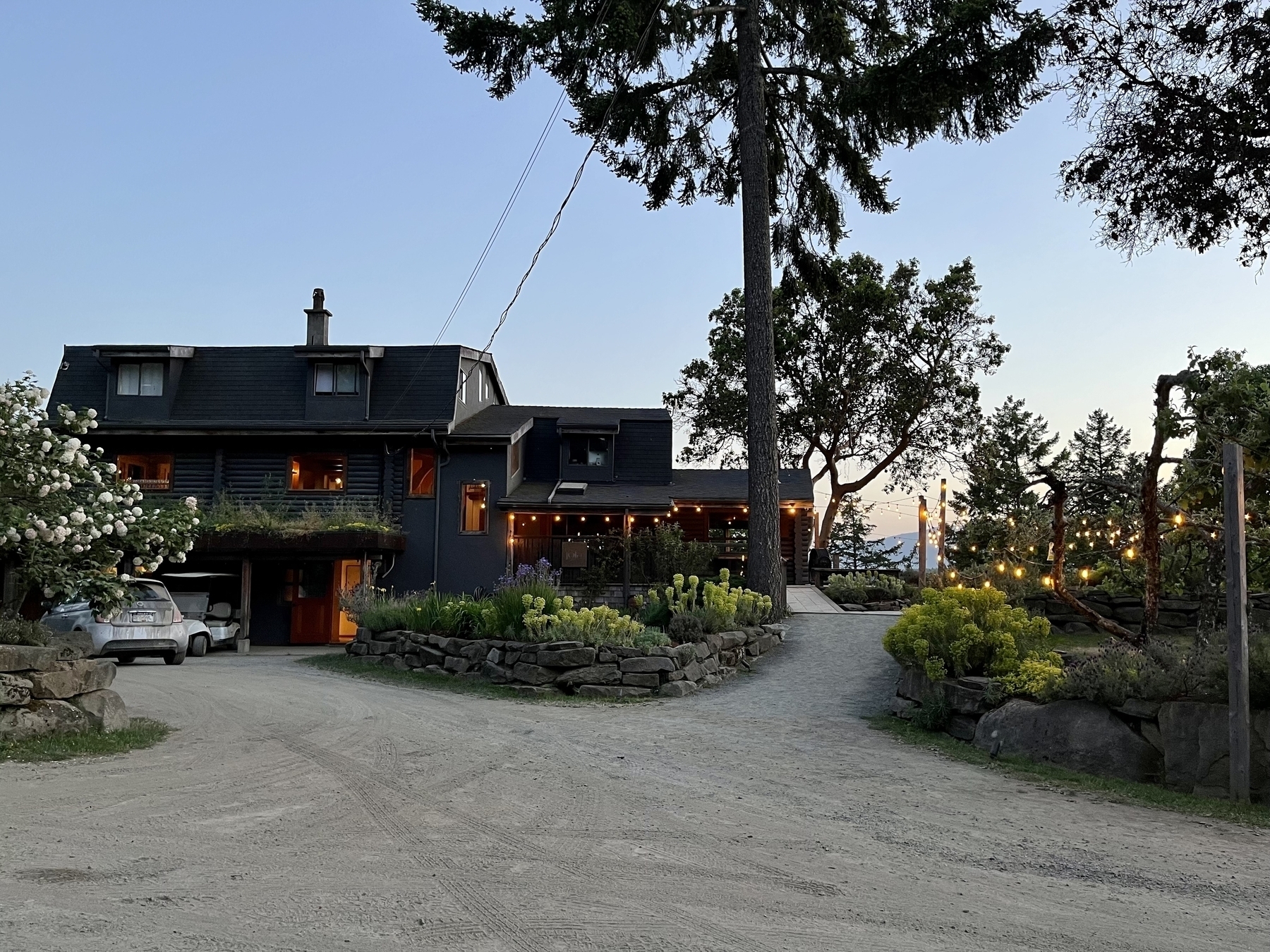 It's owned & operated by Jesse Keefer, you can read more on the about page.
Rachael and I had stayed there once before, almost exactly 11 years ago. @walkah checked in on Swarm and found my recommendation from 2012. 2
Apparently tent caterpillar infestations repeat in roughly 7-12 year cycles (and it's something I remembered from our 2012 visit), and that's the first thing that greeted us: caterpillars crawling everywhere and webs in the trees.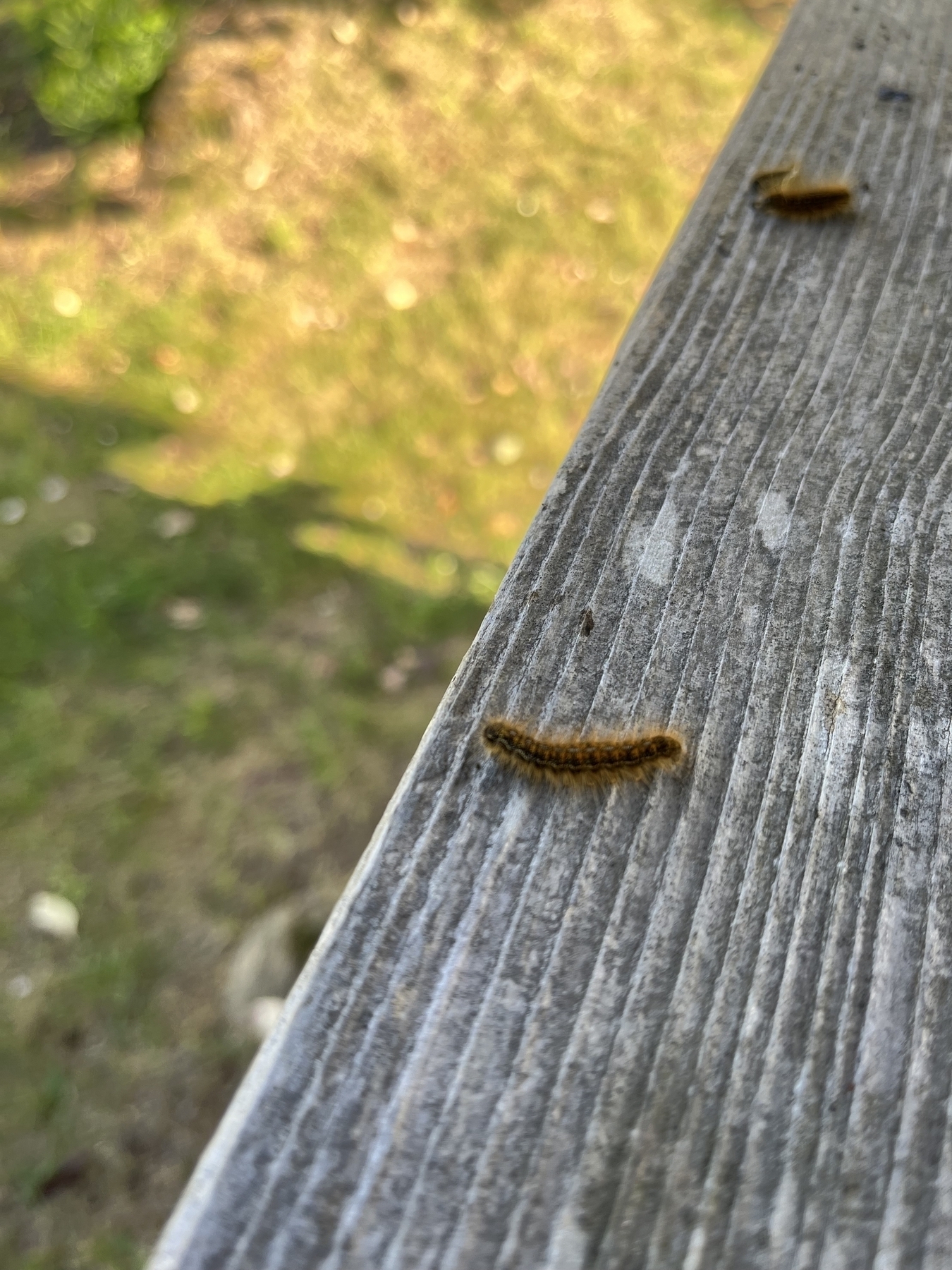 It was a great company retreat but this is going to be a post about the food.
I already put in entries for Lola the restaurant at Bodega Ridge, and Chef Elmark Andres, into the FoodWiki. I'm hopefully going to get a full menu list to keep and annotate in the wiki.
We serve locally caught local seafood and local produce from the island, much of which is from the Bodega Ridge Farm. The menu is written in a blend of Tagalog and English. Family style/sharing plates with bright surprising flavours and a focus on fire-forged ingredients.
We had lunch and dinner served family style for ~20 people, including accommodating food preferences and sensitivities. Meals were served either at the big long table indoors at the lodge, or out back under the tent pavilion.
The food was incredible and plentiful. Lots of Southeast Asian influenced flavours, and lots of fresh local ingredients. I'm including a few photos, but half the time I had half a plate to take a picture of.
---
Dinner on Sunday was our first meal. Braised carrots with sumac, a Panzanella Salad with great fresh tomatoes, and chicken legs with a garlic-y verde sauce. I was impressed right way, I thought they'd made a special welcome dinner.
The only photo that I remembered to take was this yuzu pudding with pistachios. Toasted coconut substitute for those with nut allergies.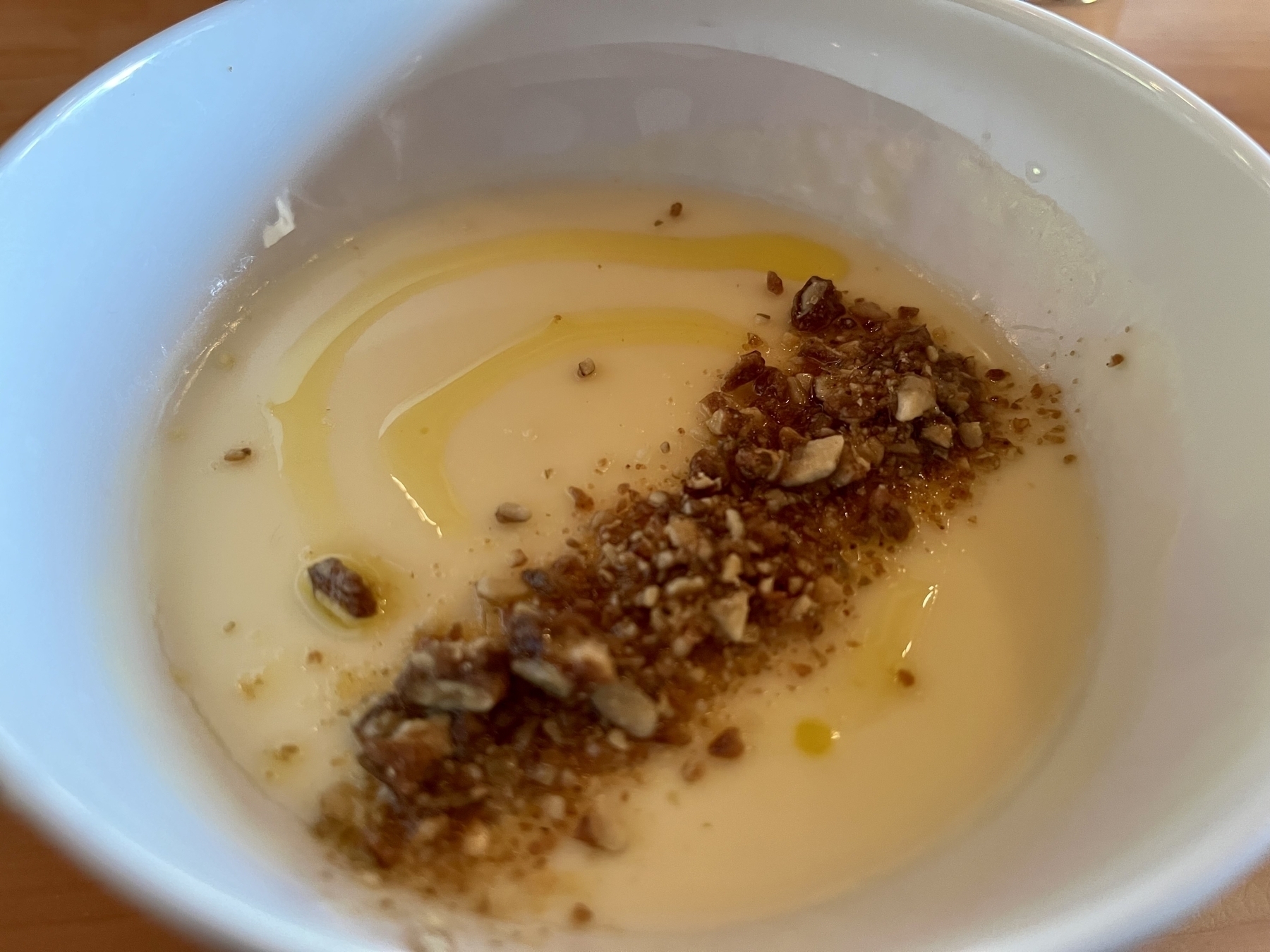 At lunch the next day, I found out that that quality of meal was just "regular" for Bodega Ridge. House made Baba ganoush and hummus with fresh baked bread seemed great for lunch. And then the food kept coming! A tomato salad with pickled red onions and a few serrano peppers.
Monday dinner was outside in the tent pavilion.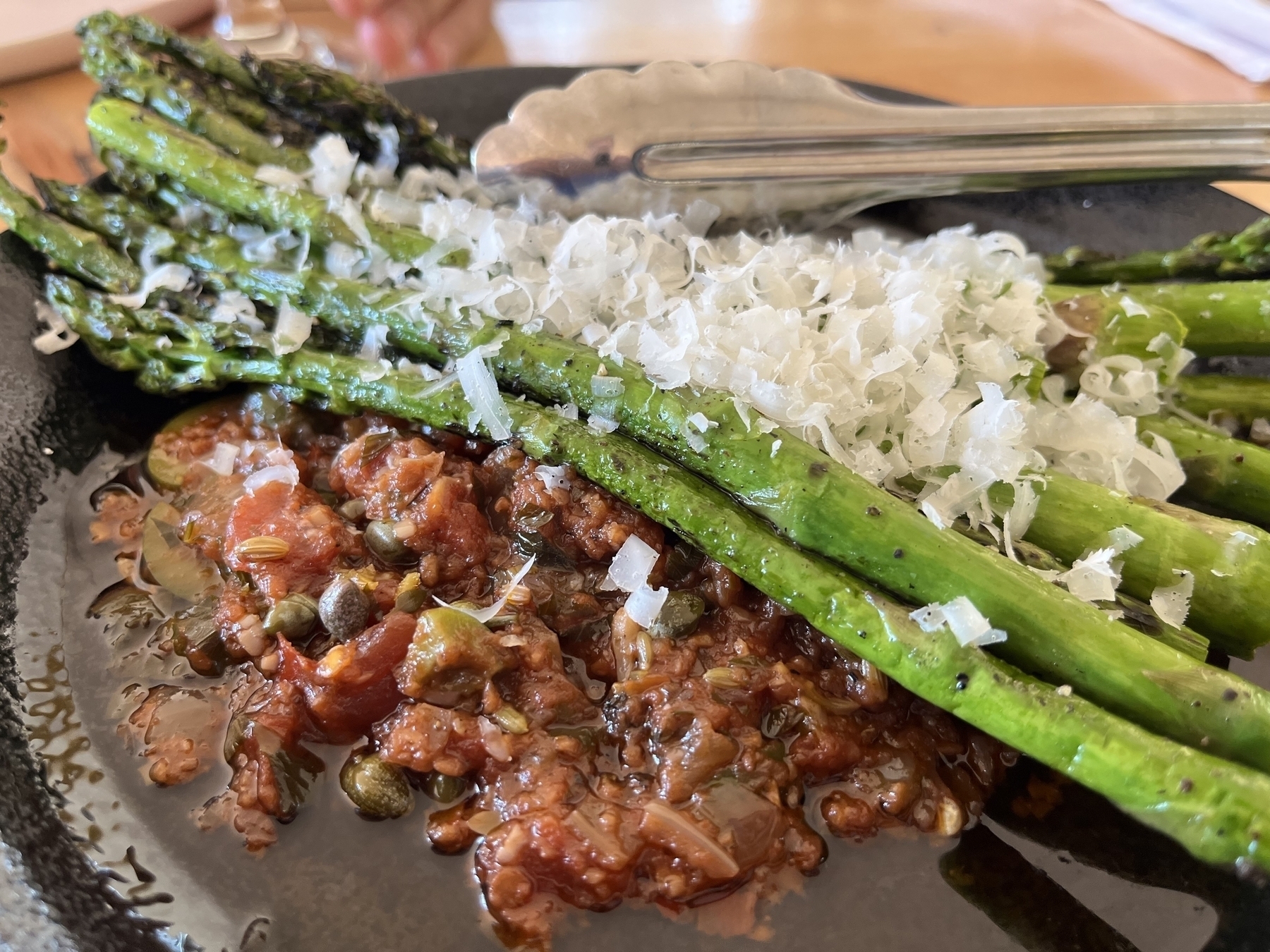 Grilled Asparagus with Puttanesca Sauce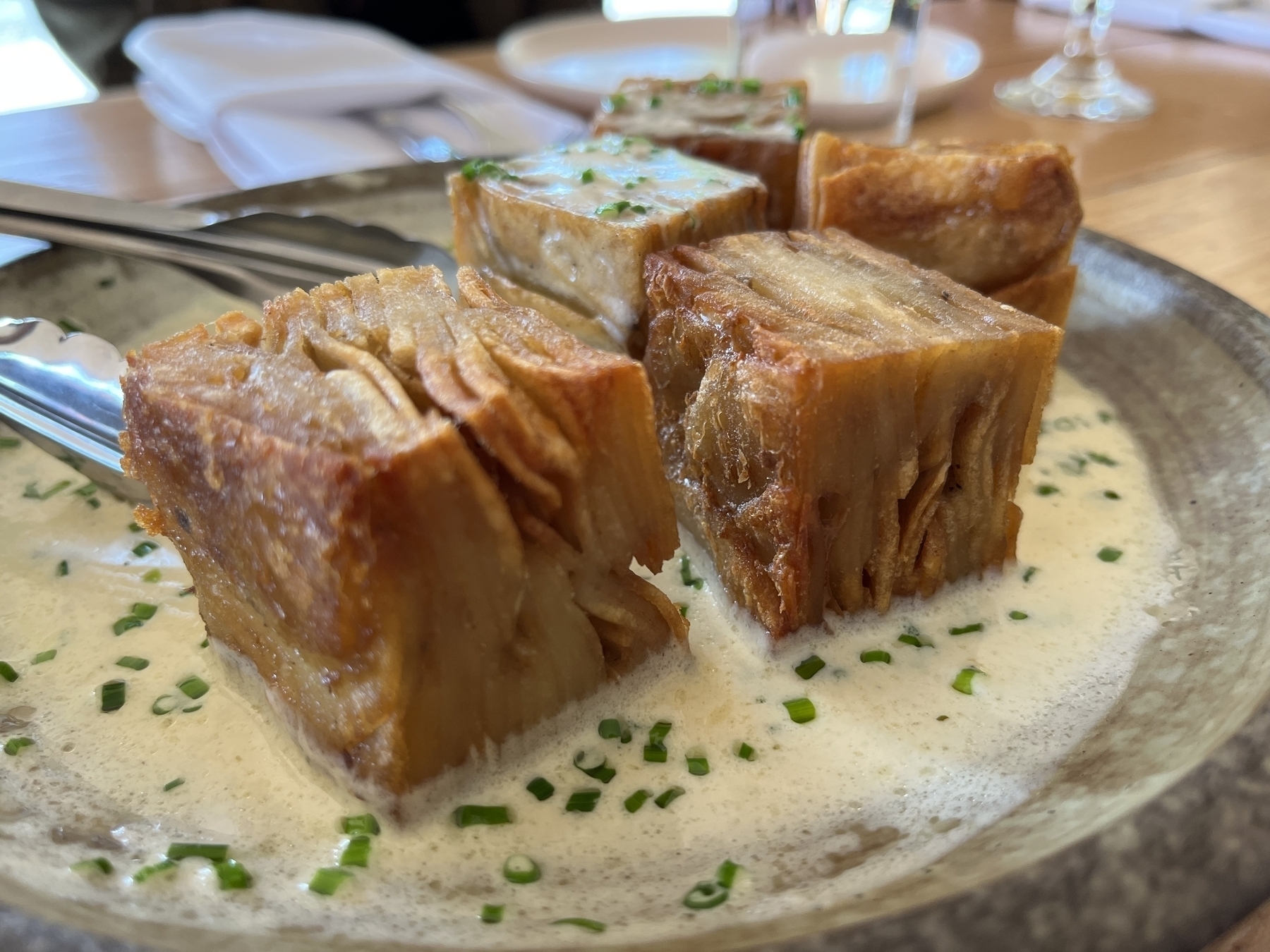 Potato Pave with Chive Cream Sauce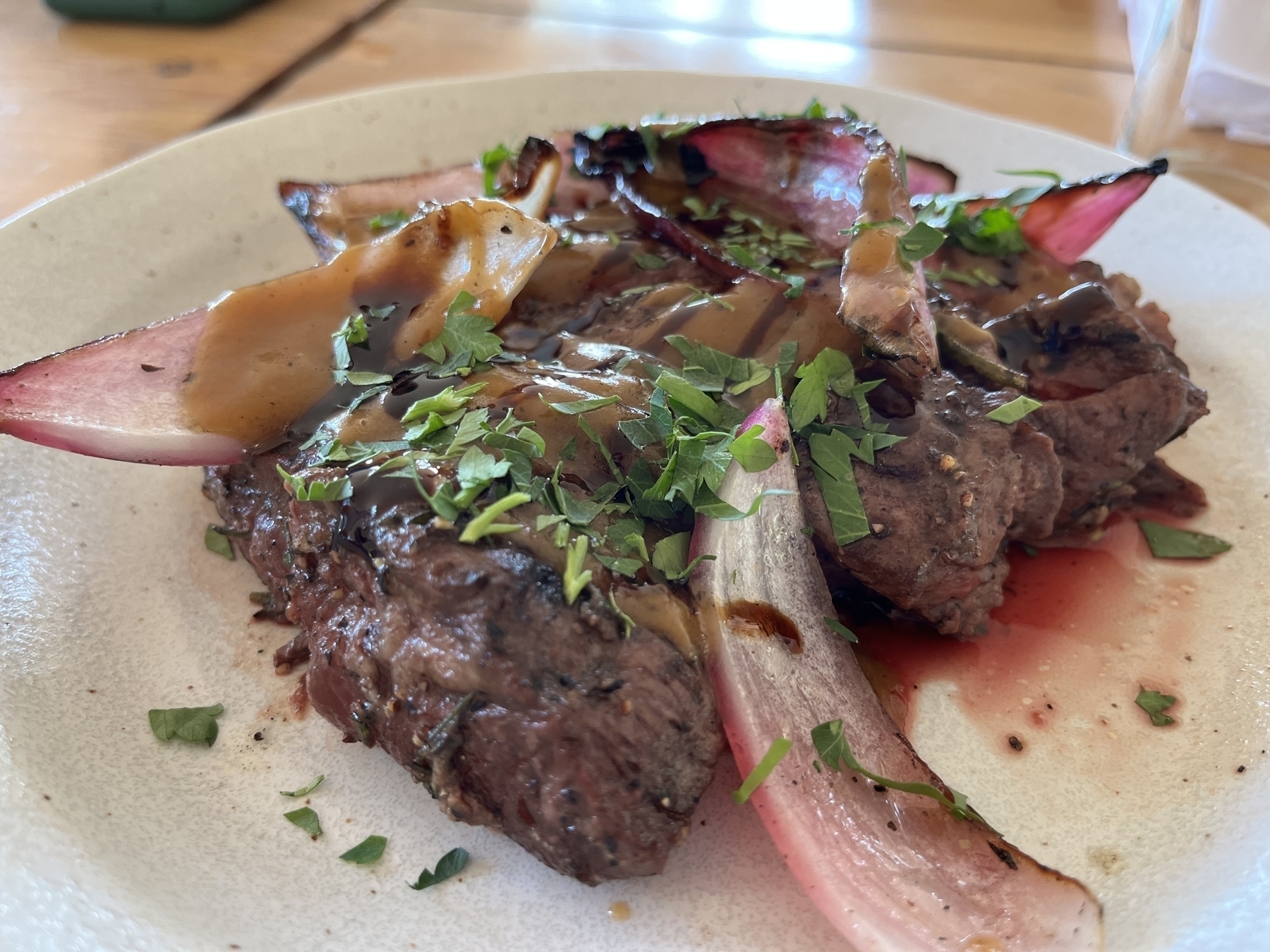 Grilled Flank Steak
And for dessert, two Basque Cheesecakes with sour cherries.
---
Tuesday lunch I knew I was in trouble. High end restaurant quality meals twice a day??? But I didn't regret it, everything was so good.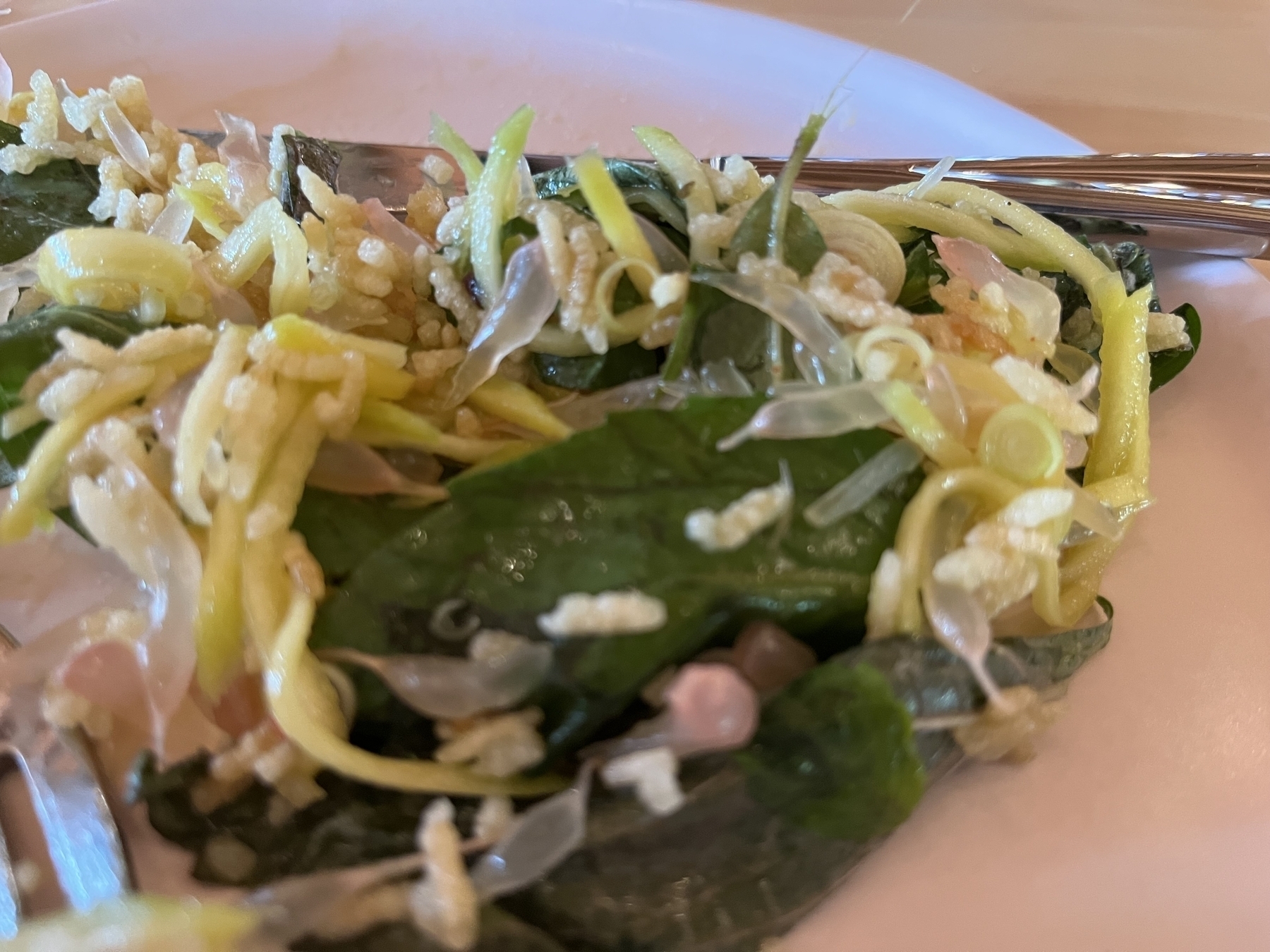 A cold ramen noodle salad with Thai basil, crunchy rice, pomello, and an amazingly tangy sauce that made everyone come back for more. Yes, this is a terrible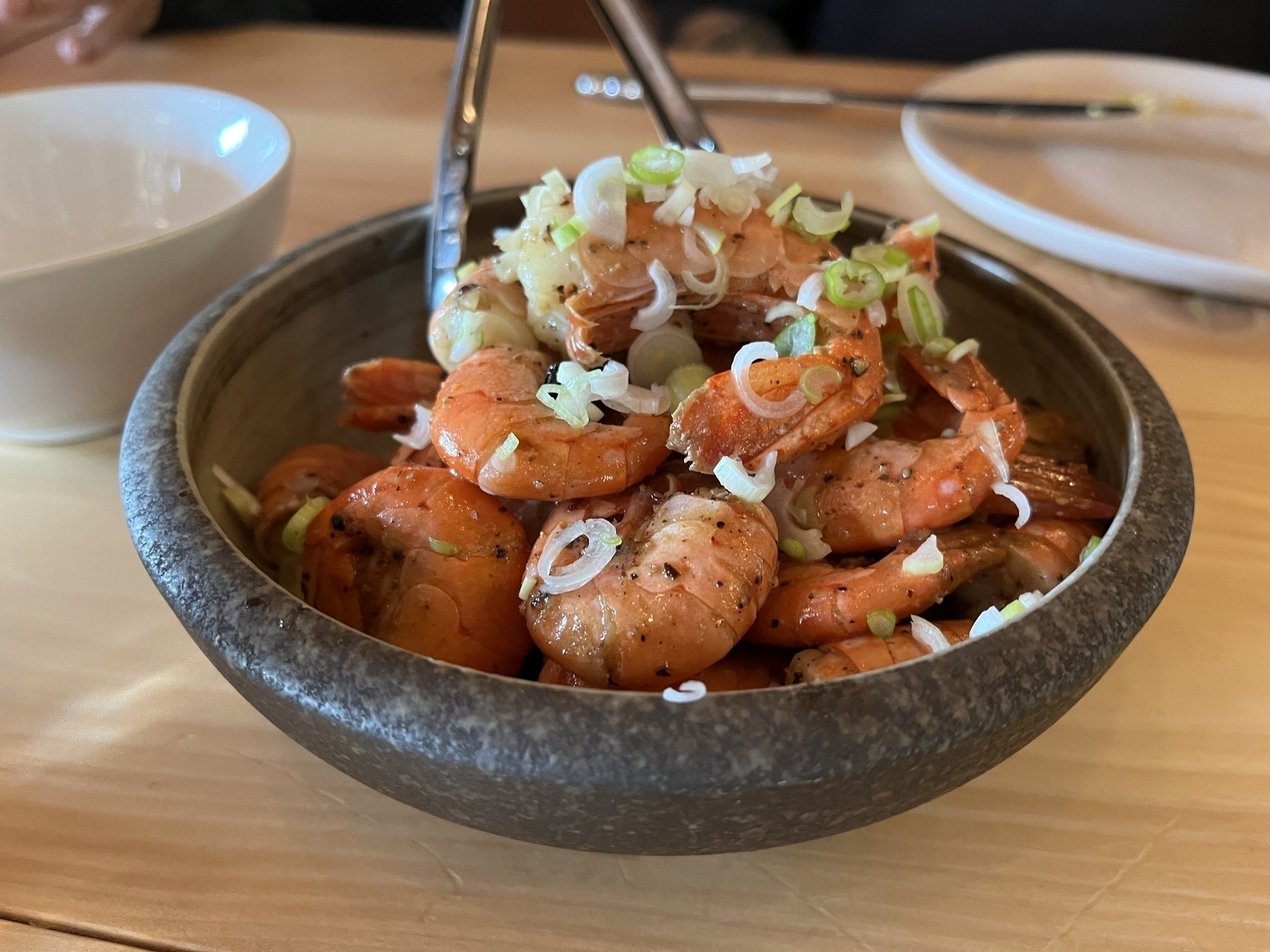 Local prawns in a black pepper sauce. Not everyone has the patience to peel and eat prawns, so Ryan and I made sure they were taken care of.
---
A few other selected menu items to give you an idea: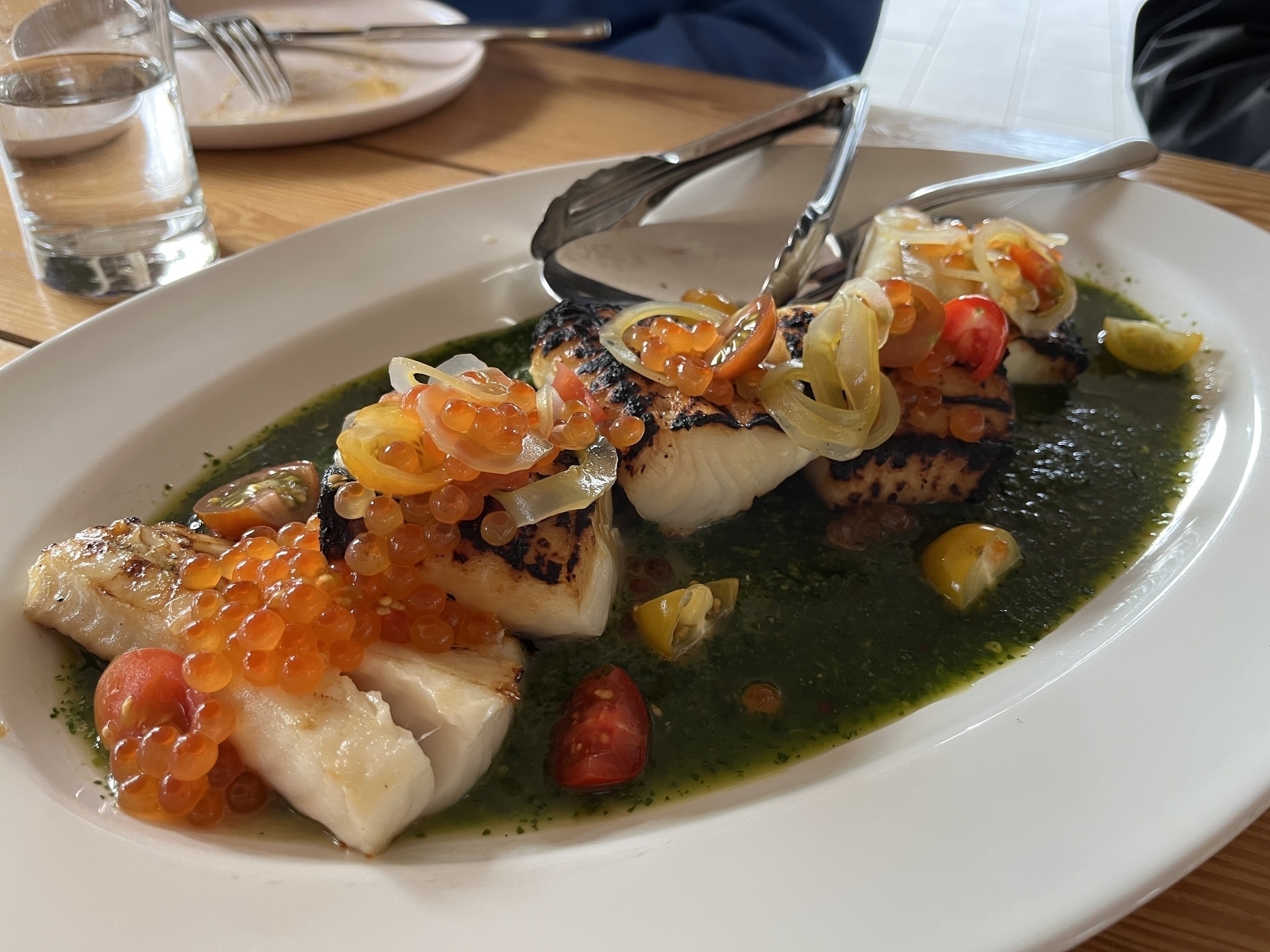 Local ling code with salmon roe and a nam prik-style sauce.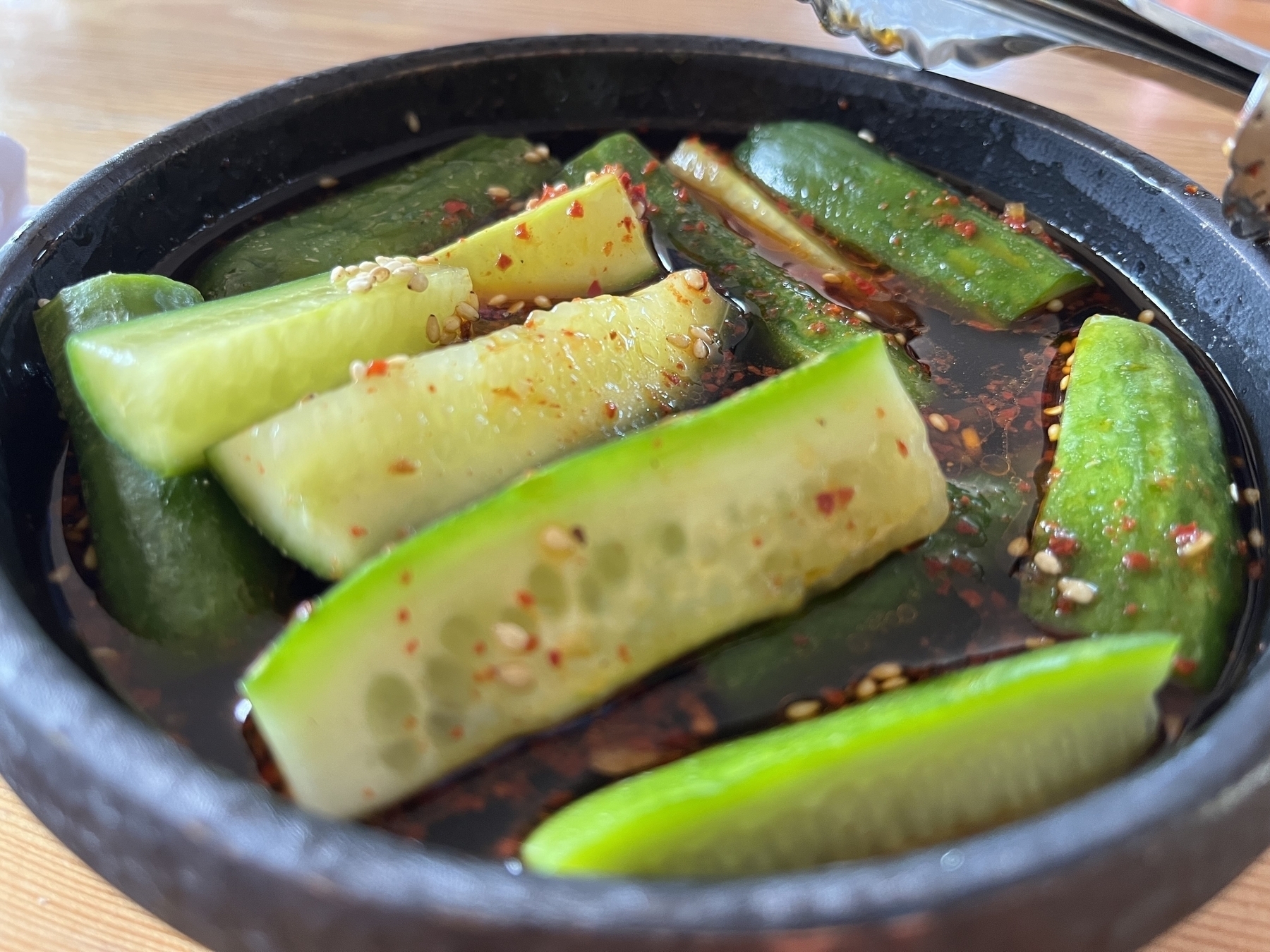 Cucumbers with gochujang sauce and roasted sesame seeds.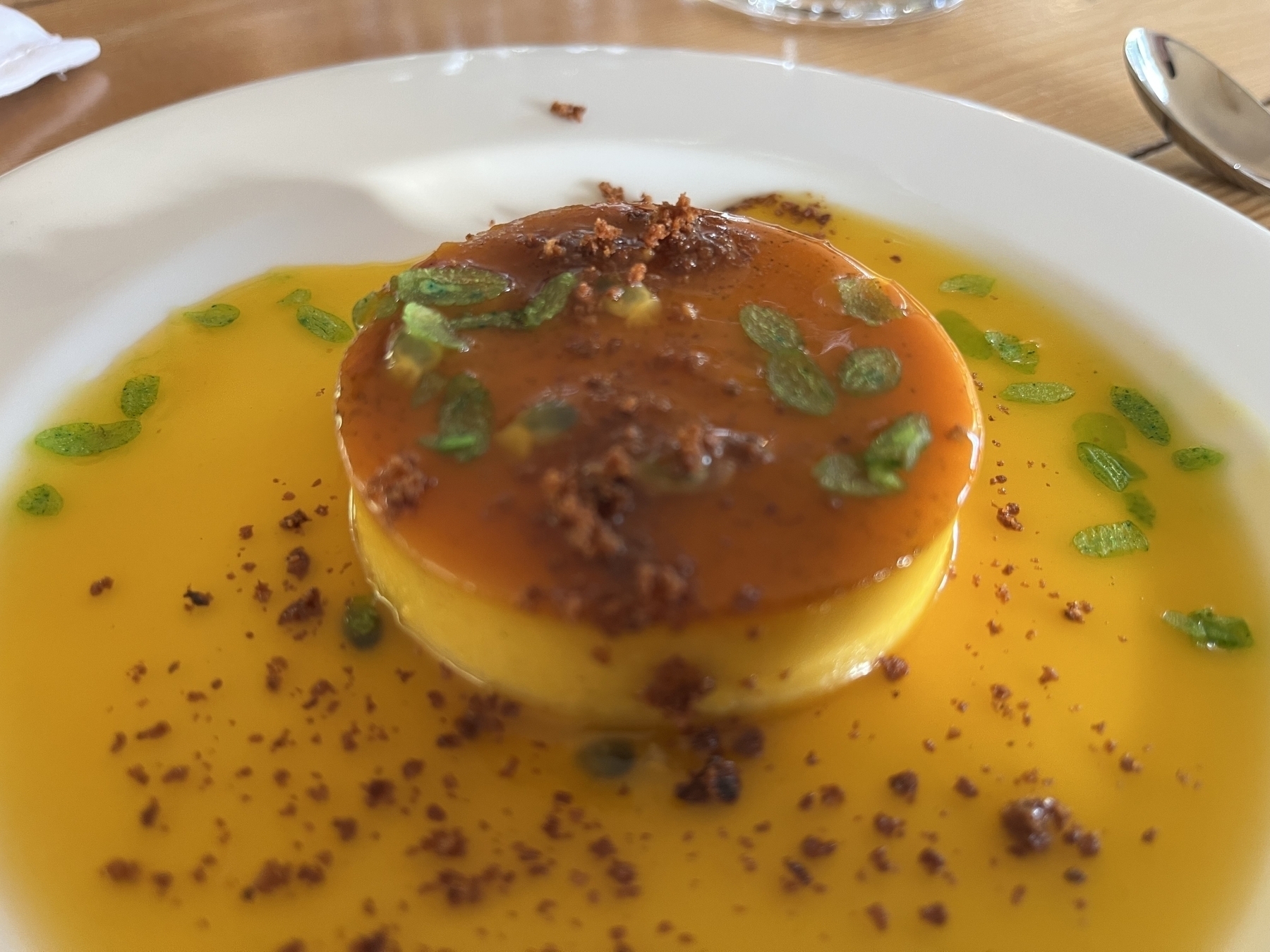 Flan with passionfruit sauce.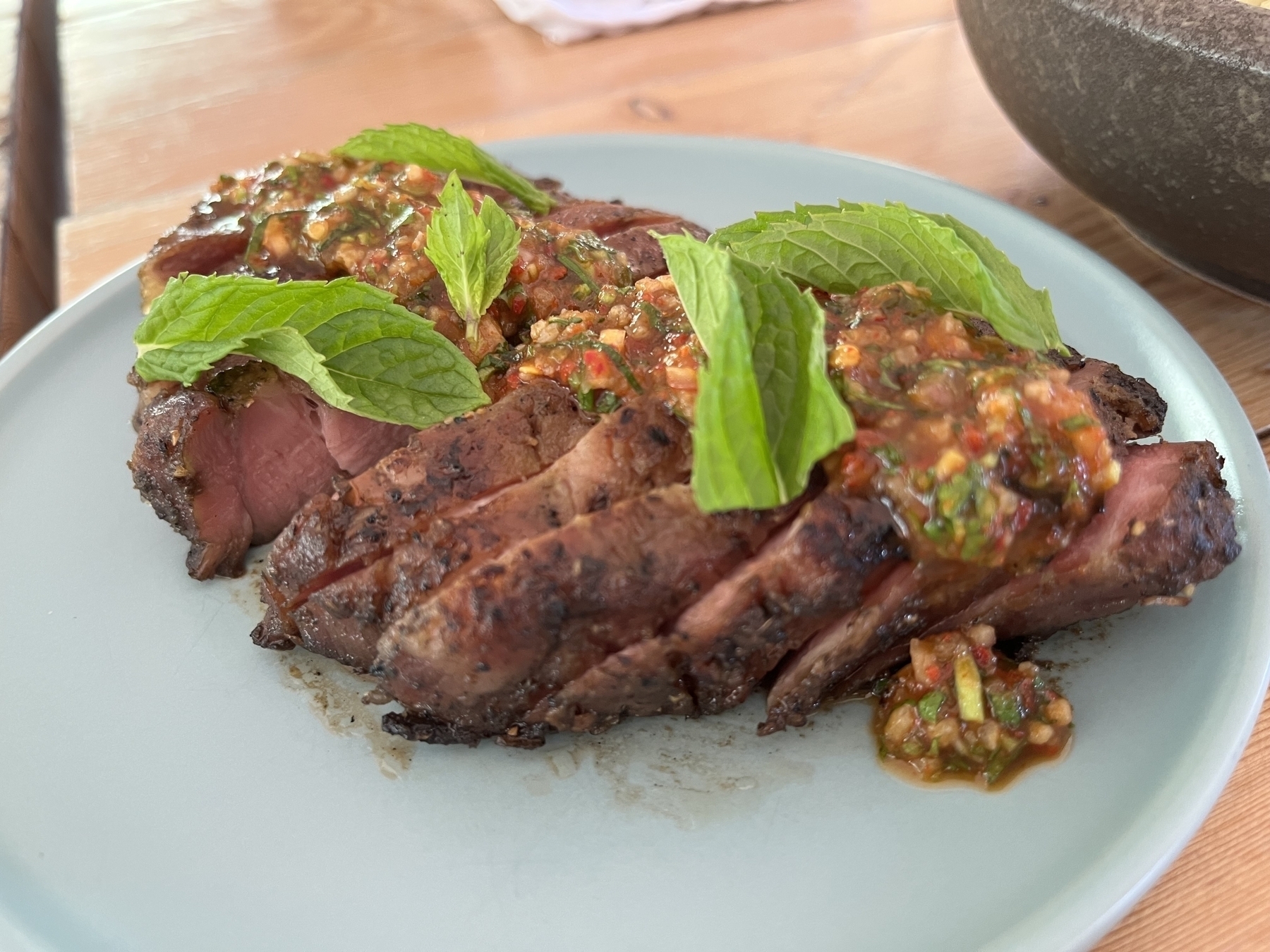 Smoked pork collar with nam price sauce and mint.
---
The bar is well stocked with a small selection of wine and beer. Hoyne Hazy IPA and Hoyne Pilsner. Phillips Blue Buck Ale and Tilt Lager. A yummy white wine, the 2021 version of this Daydreamer Pinot Gris from BC's Okanagan Valley. A French red, Ardeche Syrah - Saint Desirat.
The last night saw a few cocktails poured. "Into the Woods" is made with tequila or mezcal (the latter was out unfortunately), a house made grapefruit rosemary syrup, Ancho Reyes Chile Liquer, lemon juice and a few other things. Thanks Skyler!
---
As I said above, I'll actually aim to get the whole menu list and add it to the FoodWiki. The food and entire experience of having a retreat at Bodeda Ridge was amazing. Thanks Jesse, Chef Elmark, and the entire crew for hosting us!